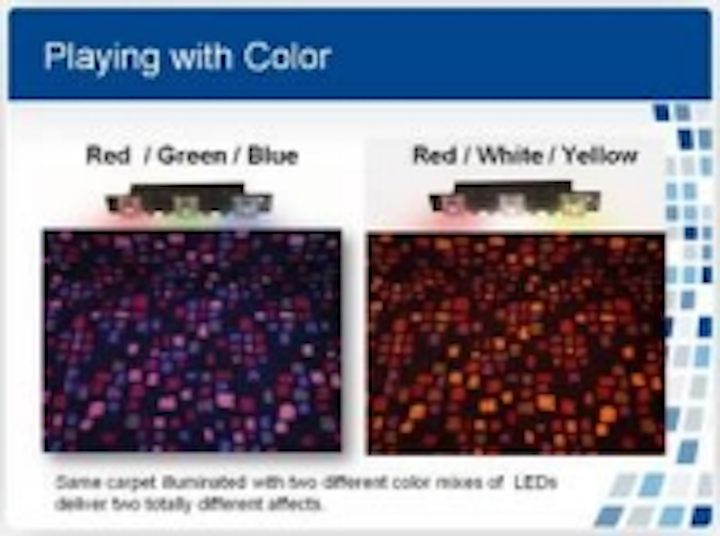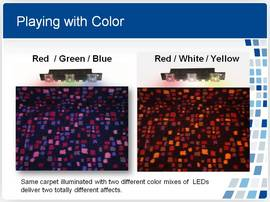 Date Announced: 02 May 2012
Explores How We See and Use Color in Commercial and Architectural Lighting
Tivoli®, LLC announces the publication of a two new AIA Continuing Education courses entitled, "How We See Color" and "How We Use Color". The two part series features courses specifically designed to explain the mysteries of the human eye and how it adapts to its environment and what affect this has in your overall environment and lighting design. The second part of the course presents recommendations and solutions on how to use color to achieve the desired effect.
Tivoli's original course, "How We See Color" was launched in 2011 and was developed to help viewers understand how the human eye detects and identifies color. Often people take for granted that the identification of color is a simple process. This course explains how the human eye adapts to its surroundings and how this affects your overall environment and lighting design. "How We See Color" was developed to help you understand how light affects colors and objects, as well as how light is measured utilizing a variety of tools. Upon completion of the course, viewers will be able to describe how we see and measure color with traditional and LED light sources, as well as gain an understanding of Color Temperatures, CRI, Color Consistency, and Metamerism .
"How We Use Color" is the second part of the instructional series presented by Tivoli. This course briefly reviews how the eye adapts to its environment and explains what affects certain light sources, colors and illumination levels have on the human eye and why you should take these items into consideration in your overall design. Then the course walks you through a number of different considerations on how to choose a fixture style appropriate to the application, how to identify an illumination source to mimic, and how to specify color. Viewers will also receive a variety of tips on how to best achieve the desired effect, as well as new controllable technologies to consider as they apply to your application.
During both of these one-hour courses, architects, specifiers, lighting designers, engineers, owners and more can earn 1 AIA Learning Unit (LU) hour. Both courses are free and suitable for all audiences of any level. The on-line courses are available by logging onto hanleywooduniversity.com or AIA.org.
For firms that desire an in-person presentation with AIA CES credit on the topics of "How We See Color" or "How We Use Color", lunch-and-learn presentations can still be requested from Tivoli by visiting http://www.tivolilighting.com/resources/education
For more information, visit www.tivolilighting.com.
ABOUT TIVOLI
Tivoli is the original innovator in LED based linear lighting products, with over 42 years experience in low voltage and LED based linear lighting products.
When Color Matters --Tivoli is the choice.
Uniquely focused on 'the right light' – color temperature and output for low ambient cove and niche applications.
Most other commercial manufacturers in US are focused on higher output led illumination. Tivoli is focused on low wattage, highly energy efficient, linear led fixtures for accent cove and niche lighting applications. We specialize in small source applications that create the sparkle to delineate a project.
Using our expertise with color mixing LEDs for theater lighting we have created incandescent color equivalents and even improvement to incandescent using led color mixes.
As the market leader in emerging LED linear lighting, we offer a complete line of architectural, signage and auditorium linear LED based lighting products. Our products are flexible, adaptable energy-saving LED-based linear lighting products for broad architectural / commercial applications, both indoors and out. Tivoli's architecturally significant designs have been providing visible delineation or concealed illumination effects for over forty years.
Lighting is our business, color is our concern.
Contact

E-mail:ilovit@tivolilighting.com
Web Site:www.tivolilighting.com