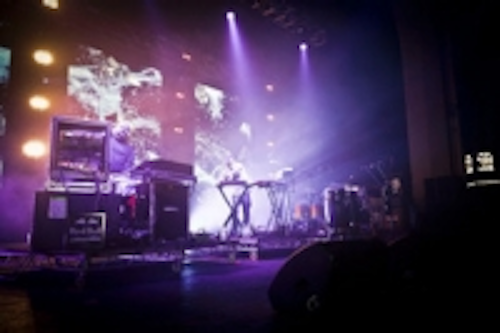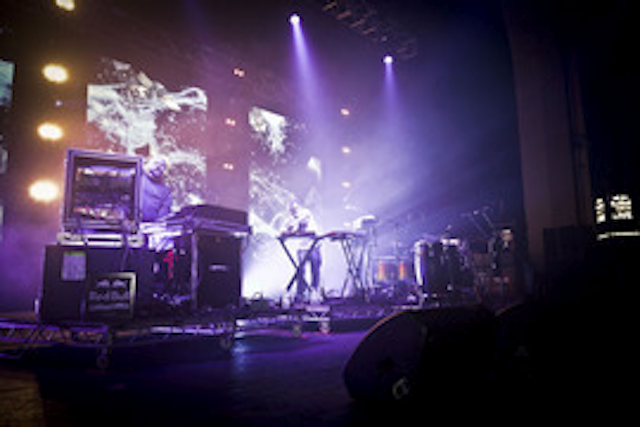 Date Announced: 23 May 2012
West London based lighting and visuals rental company Colour Sound Experiment (CSE) renewed its long standing and highly successful working relationship with one of the UK's best loved dance artists, Leftfield, who headlined a recent War Child benefit gig at London's Brixton Academy.
CSE has worked with the band on and off since they burst gloriously onto the house scene in the mid 1990s, taking it by the balls and pioneering their own style of original intelligent dance / progressive house sounds fused with dub and reggae.
The War Child gig was the first Leftfield performance of 2012, and CSE was asked to supply lighting equipment by their live / touring production manager Chris Taplin.
The lighting was programmed and operated by Chris Steel, who has been with the band since the end of 2010.
The design was based around three trusses – front, mid and back.
The upstage truss was used to hang three columns of Martin Professional EC 10 LED screen, with flexible ladders in between providing the rear lighting positions for 18 Clay Paky Alpha Spot 1500 HPE moving lights. These were chosen for their powerful beams and other effects. There were also six Martin Atomic strobes in a row along the top of the truss, and 16 x 2-lites on the ladders.
The mid truss was rigged with four Robe ColorWash 700E ATs and four Atomic strobes, and on the front truss were another four Robe ColorWash 700E ATs and seven ETC Source Four profiles used for key lighting.
On the floor were 13 GLP Impression Zoom LED wash lights used for low level dramatic sweeps of colour, and six Clay Paky Alpha Spot 1500s, used for piercing through all the haze and creating another layer of excellent eye-candy and beam-work from the back . There were another five Atomics on the floor.
All the lighting was run by Steel using a Chamsys MagicQ 300 console. The visuals for the video were stored on a Green Hippo media server and triggered by timecode.
Steel's show was eye-catching and straightforward, the trick was in the organic operation that basically flashed, strobed and vibed along with the music and visuals!
Steel worked with Colour Sound's technician, Chris Picton for the Brixton show.
He says, "As always, Colour Sound were fantastic! A great company, very helpful and always provide whatever you need".
Production company Capitalise designed three large custom light-boxes which were prominently positioned onstage throughout the evening – with the materials to make them up supplied to Red Bull Studios via CSE.
In addition to Leftfield – once famously banned from the venue for being excessively loud! - Booka Shade, James Zabiela, Jess Mills, M.A.N.D.Y, Tempo Tantrum and Jemmy also lined up venue to produce an evening of great music for an excellent cause.
Contact
Louise Stickland +44 7831 329888 +44 1865 202679
E-mail:louise@loosplat.com