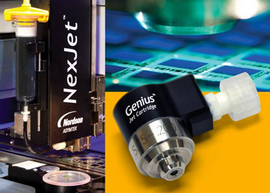 Date Announced: 01 May 2012
Nordson ASYMTEK, a leader in fluid dispensing, coating, and jetting technologies, announces the new, patent pending, NexJet™ System, a significant advancement representing the next step in jetting technology. Central to the system is the Genius™ Jet Cartridge, an innovative, one-piece jet that is quickly and easily removed without tools. The jet cartridge has built-in memory to store usage data like the number of cycles and cartridge type. The NexJet System includes new precision software control of the jetting process, enabling successful results with both low- and high-viscosity fluids, and accommodates a broad range of fluids for applications such as flip chip underfill, chip scale package, ball grid array, package-on-package underfill, precise coating, and adhesive dispensing. Cost of ownership is up to 20% less than with other jets.
"Jetting is one of the most popular ways to dispense fluids during production. Nordson ASYMTEK pioneered jetting with the development of the first DispenseJet® series of valves in 1994, and today our jets are installed globally in the widest range of dispensing applications," said Peter Bierhuis, president, Nordson ASYMTEK. "The new NexJet jet builds upon Nordson ASYMTEK's foundation of jetting excellence and revolutionizes the construction of the jet itself, setting new standards for ease of use, smart operation, extended capability, and flexibility."
At the heart of the new jet system is the one-piece Genius Jet Cartridge. As simple as an ink jet printer cartridge, it is easily removed and replaced in seconds without tools, saving time, money, and labor on the production line. The Genius Jet Cartridge dispenses up to 50 million cycles before a replacement is necessary, depending upon the application. The memory in the Genius Jet Cartridge stores vital usage data that is communicated to the dispensing system and compared to the recipe to notify the operator when the correct cartridge is installed or when it needs replacement. This intelligence enables quality dispensing and high yields. The advanced design of the NexJet system includes new software that widens the process window to ensure stable and repeatable results for high-yield production and broadens the range of jettable fluids and applications, adding more flexibility.
Each NexJet System ships with two Genius Jet Cartridges and a specially designed Genius Jet Cartridge Cleaning Tool that completely flushes the jet cartridge while the other jet cartridge can be used for production. Fewer parts, less training, and more production up-time all deliver lower cost of ownership.
The NexJet system is available as an upgrade for Nordson ASYMTEK's Spectrum™, Axiom®, and DispenseMate® Series platforms, and can accommodate six reservoir sizes: 3 cc, 5 cc, 10 cc, 30 cc, 2.5 oz, and 6 oz. The Genius Jet Cartridge comes in 4 sizes. For additional product details, specifications, pictures, and videos visit: http://www.AdvancedJetting.com.
About Nordson ASYMTEK
Nordson ASYMTEK, a world leader in precision automated fluid dispensing, conformal coating, and jetting technologies, designs and manufactures a full line of dispensing and coating systems, supported by a global applications and service network. Recognized for its innovative equipment and excellent service, Nordson ASYMTEK continues to offer advanced dispensing solutions for a range of precision assembly processes. These include semiconductor packaging, printed circuit boards, LEDs, flat panel displays, medical and biotechnical devices, and solar and photovoltaic products. Nordson ASYMTEK is an ISO 9001:2008 certified company and has received numerous awards for its service excellence and product innovations. For more information, visit www.NordsonASYMTEK.com, www.twitter.com/NordsonASYMTEK or www.facebook.com/NordsonASYMTEK.
Contact
For more information contact: Nordson ASYMTEK Headquarters: Roberta Foster-Smith Tel: +1.760.431.1919 Email: roberta.foster-smith@nordsonasymtek.com Agency Contact: Andrea Roberts A R Marketing, Inc. Tel: +1.858.451.8666 Email: andrea@armarketinginc.com International Offices: Headquarters: 2747 Loker Ave. West, Carlsbad, CA 92010 USA Tel: +1 760 431 1919 www.nordsonasymtek.com China: +86 21 3866 9166 www.nordsonasymtek.com/cn
E-mail:info@nordsonasymtek.com
Web Site:www.advancedjetting.com