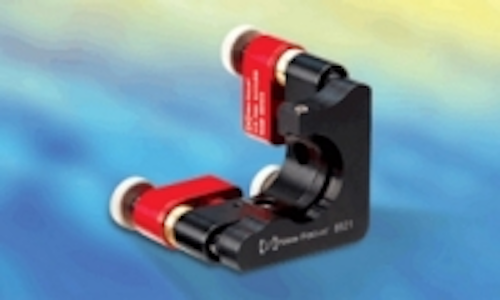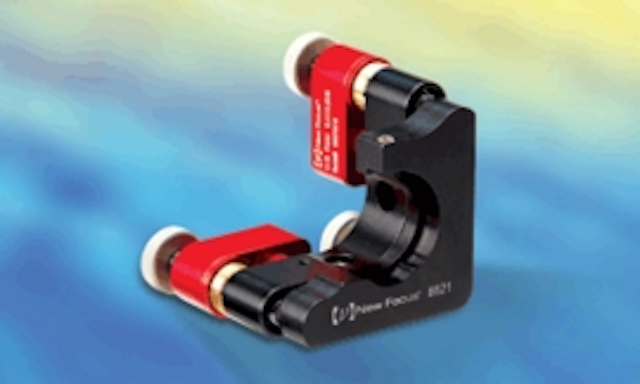 Date Announced: 10 May 2012
• Clear Edge Picomotor™ Mount 8821 offers precision and stability with the greater beam access of a clear edge mirror mount.
New Focus™, a Newport Corporation Brand, introduces the Clear Edge Picomotor Mount 8821. The new mirror mount features two Picomotor actuators for added precision and stability, with a clear edge mirror mount for greater beam access in a single, compact, and cost-effective package. Sapphire seats and optimized springs deliver smooth, reliable operation while maintaining a high level of thermal and mechanical stability.
The kinematic 8821 mount accommodates 1-inch (25.4 mm) optics ranging in thickness from 6mm to 10mm. The new mount's Picomotor features integrated knobs for quick, manual adjustment of all axes. It is fully compatible with New Focus' 8702 Picomotor Drive Module and the iPico™ Series as well as the company's recently-introduced GuideStar™ II Laser Beam Steering Correction System. For added convenience, a left-handed mirror mount 8821L is also available, both in black anodized aluminum.
For more information on New Focus' Clear Edge Picomotor Mounts 8821/8821L for research, laboratory, and industrial tasks, please visit: www.newport.com/8821.
About Newport Corporation
Newport Corporation is a leading global supplier of advanced-technology products and systems to customers in the scientific research, microelectronics manufacturing, aerospace and defense/security, life and health sciences and precision industrial manufacturing markets. Newport's innovative solutions leverage its expertise in high-power semiconductor, solid-state and ultrafast lasers, photonics instrumentation, sub-micron positioning systems, vibration isolation, optical subsystems and precision automation to enhance the capabilities and productivity of its customers' manufacturing, engineering and research applications. Newport is part of the Standard & Poor's SmallCap 600 Index and the Russell Microcap Index.
Contact
New Focus 3635 Peterson Way Santa Clara, CA 95054 Tel 408-980-4300
E-mail:kim.abair@newport.com
Web Site:www.newport.com/newfocus