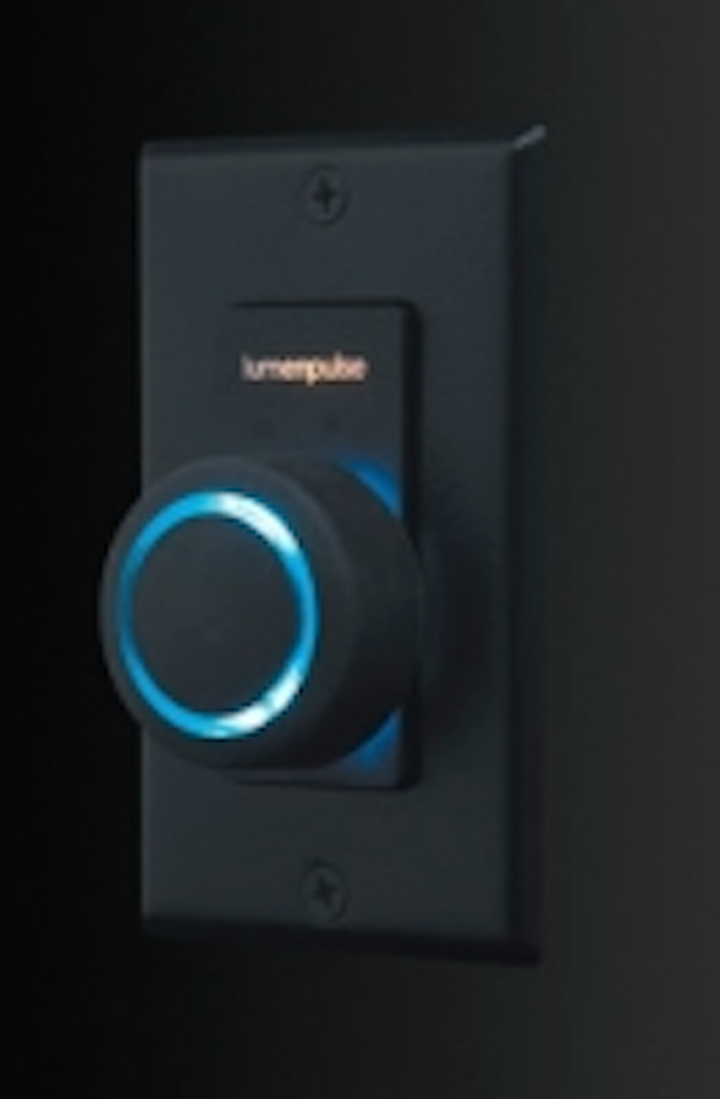 Date Announced: 26 Apr 2012
Intuitive controller makes complex lighting effects simple and accessible to all
Montreal, QC, and Boston, MA - Lumenpulse Inc., a leading innovator and manufacturer of high performance, architectural LED-based lighting solutions for commercial, institutional, and urban environments, today announced the release and availability of Lumentone, an intuitive LED lighting controller. Developed to simplify control, Lumentone opens the doors for anyone to be able to implement and manage sophisticated lighting shows.
Suitable for either white light or colored light installations, Lumentone is a wall-mounted DMX controller that gives users access to advanced lighting installations, by allowing them to dim, change colors, modulate the color temperature, add effects, or alter the rate of change – with just a nudge and a turn of the dial.
"Lumentone will simplify fixture control, enabling anyone to take advantage of LEDs, regardless of their level of expertise or familiarity with the technology," said François-Xavier Souvay, Founder, President and CEO of Lumenpulse. "With Lumentone, users can alter the mood of a space simply by pushing and turning the dial. It's as easy as changing tracks on an MP3 player."
Lumentone comes with 13 standard, pre-programmed shows, which can be selected by pressing and turning the dial. There are 8 color changing scenes, including 3 that are specifically developed to utilize RGBW technology. These scenes range from static colors to random fades and sparkle effects. There are also 5 scenes dedicated to white light control, including a standard dimming control, comet effects and a Dynamic White option which allows the user to alter the color temperature from a warm 2700K to a cool 6500K – or any temperature in between.
The dial itself provides instant feedback for the user as it illuminates to reflect the lighting effect chosen, further simplifying the lighting management process for the user.
The controller is compatible and easily integrated with all industry standard North American gang boxes and any decora faceplate, and is available in white, black or custom finishes. It is suitable for almost any environment, operating in temperatures as low as -10˚C (-14F) and as high as 40˚C (104F).
More information about Lumentone is available on the Lumenpulse website at www.lumenpulse.com/en/products/379.
About Lumenpulse Inc.
Founded in 2006, Lumenpulse develops and manufactures high performance, sustainable architectural LED-based fixtures and solutions for commercial, institutional, and urban environments. Attention to detail in mechanical, optical and fixture design has positioned Lumenpulse as a leader in the global LED lighting marketplace for indoor and outdoor uses. In addition to comprehensive product family offerings, Lumenpulse also specializes in the design, manufacturing and commissioning of large scale, customized, LED lighting solutions worldwide.
For more information, please visit www.lumenpulse.com.
Contact
Jason Broadhurst Lumenpulse Phone: 1-877-937-3003
E-mail:jbroadhurst@lumenpulse.com
Web Site:www.lumenpulse.com/en/products/379