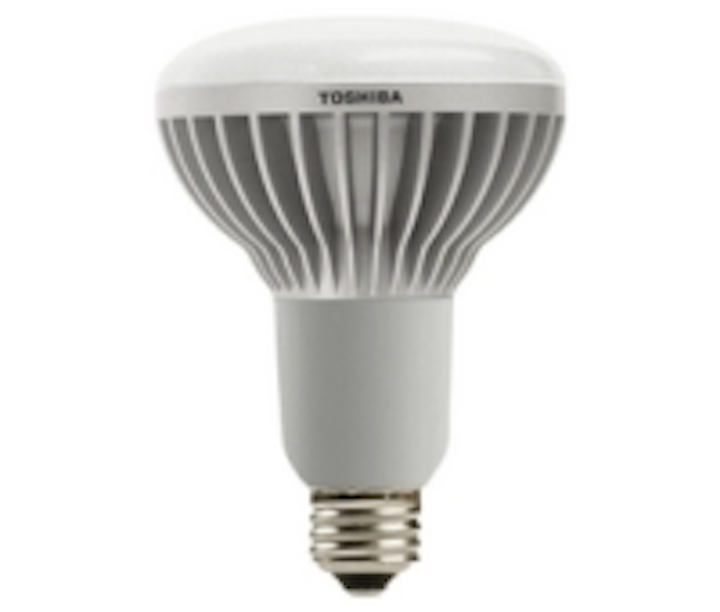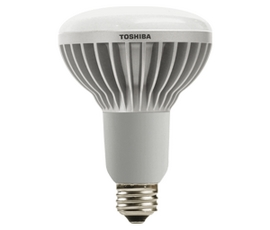 Date Announced: 17 Apr 2012
Toshiba International Corporation announced today that it has introduced a new BR30 lamp that offers exquisite lighting, while providing significant energy savings compared to incandescent bulbs. This new lamp offers great light with a smooth, even beam of light, perfect for accent lighting and illuminating any space.
Toshiba's new BR30 650 Series is a direct replacement for 65W incandescent lamps and offers outputs of up to 650 lumens. In addition, the lamp is dimmable and contains no mercury or lead. The BR30 lasts up to 20 times longer and uses up to 79 percent less energy than its incandescent equivalents, and is rated to last 40,000 hours.
"This new BR30 produces gorgeous light with an even glow, offers huge energy savings and lasts significantly longer than its incandescent equivalent," said Peter DallePezze, Vice President of Marketing and Product Development, Toshiba International Corporation LED Lighting Systems Division. "It's exactly what designers, architects and homeowners have been looking for."
Among the lamp's benefits:
Designers can earn LEED certification points for new and existing structures, as a result of the increased energy savings;
Homeowners can lower their energy bills without sacrificing the cozy and familiar feel they enjoy with incandescent lamps.
Thanks to higher lumen outputs, the lamps can be used in high ceilings without sacrificing light quality, or placed farther away from the wall for track lighting.
The BR30 650 Series is available in 2700K color temperature.
The lamp is backed by Toshiba's 120-year heritage as a preferred lighting manufacturer in Japan and by Toshiba's reputation worldwide as a reliable manufacturer of quality electronics products. As one of the largest lighting companies and LED lamp manufacturers in the world, Toshiba is dedicated to creating high quality light while keeping energy consumption low. One hundred percent of Toshiba's current lighting product offering and lighting product development in the U.S. is based on LED technology.
To demonstrate its commitment to LED technology as the superior choice for lighting, Toshiba abandoned production of incandescent light bulbs in March 2010. Toshiba was the first major lighting manufacturer to proactively discontinue the production of incandescent light bulbs in favor of energy-efficient LED lamps.
Further exemplifying Toshiba's commitment to producing high-quality, energy-efficient LED lighting, many of the company's LED light bulbs have received the U.S. Environmental Protection Agency's ENERGY STAR label. In order to qualify for ENERGY STAR certification, light bulbs must use at least 75 percent less energy and last at least 15 times longer than comparable incandescent lighting.
About Toshiba International Corporation
Toshiba International Corporation (TIC) is a Toshiba America Inc. (TAI) Group Company, a wholly owned subsidiary of Toshiba Corporation. TIC is headquartered in Houston, Texas, and employs approximately 1,200 people. TIC provides application solutions to a wide range of industries including lighting systems, industrial, power systems, and transmission and distribution systems. For more information about TIC, please visit www.toshiba.com/tic.
About Toshiba International Corporation's LED Lighting Systems Division
Toshiba International Corporation's LED Lighting Systems Division provides the North American market with a variety of high-efficiency LED products. Drawing upon Toshiba's 120-year heritage of lighting innovations in Japan and world-class electronic and semi-conductor technologies, the LED Lighting Systems Division is emerging as a leader in solid state lighting. The LED Lighting Systems Division is committed to providing lighting solutions that enhance the quality of life and meet the diverse needs of its customers. Further information is also available online at www.toshiba.com/lighting.
Contact
Mittie Rooney 301-602-8709
E-mail:mrooney@axcomgroup.com
Web Site:www.toshiba.com/lighting