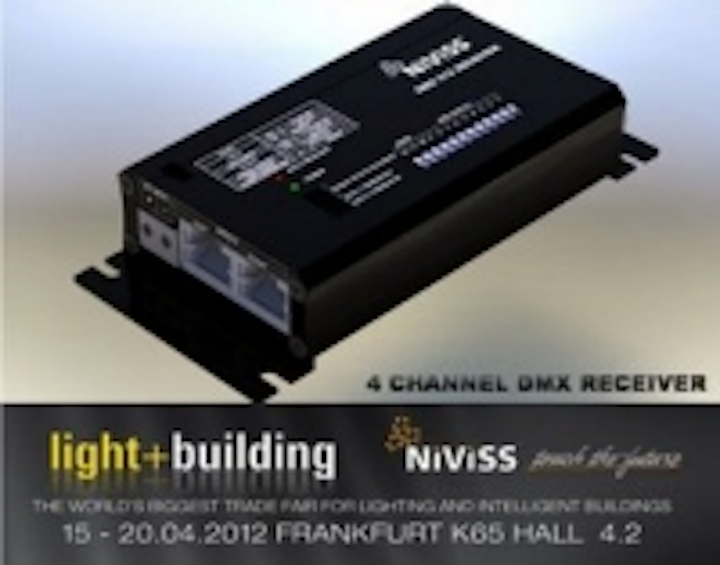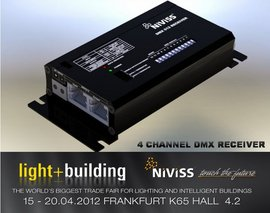 Date Announced: 04 Apr 2012
NIVISS has recently developed a new DMX Receiver which bases on the popular DMX512 standard used to control lighting systems and special effects. It was designed for 4-channel LED lighting systems (RGBW – red, green, blue and white) with a 24-bit color depth enabling 16 millions different colors with high contrast and brightness levels. Each input is driven independently to provide exceptional color mixing.
The DMX512 Receiver is intended to be used with NIVISS SUPL constant current LED driver with a PWM input. It can be used for driving RGB or RGBW LED light sources like LED lines, strips or NIVISS nGine modules. Multiple receivers connected into a bigger system give an option of achieving excellent color mixing in decorative lighting applications. Compact design and size allow to fit it into even small light fixtures.
Key paremeters:
- input voltage: 10-30V DC
- number of channels: 4
- max output current for each channel: 2A
- number of colors: 16 millions
About NIVISS 
NIVISS is a Cree® LED Solution Provider and offers LED lighting solutions based on Cree® Xlamps®. The company focuses on delivering both standard as well as customized LED products designed according to customers' needs which are used in many prestigious projects like building illuminations of shopping centers, outdoor and indoor commercial lighting or LED modules used in emergency vehicles. Another group of products are LED lighting solutions like Niviss nSpot spot lights, nT8 retrofits or Niviss nLine and nFlex LED strips. All products meet highest quality standards and are CE and RoHS compliant. 
Visit NIVISS at Light+Building 2012 in Frankfurt:
15-20.04.2012
Hall 4.2 Booth K65
Contact
+48 58 781 33 99
E-mail:sales@niviss.com
Web Site:www.niviss.com