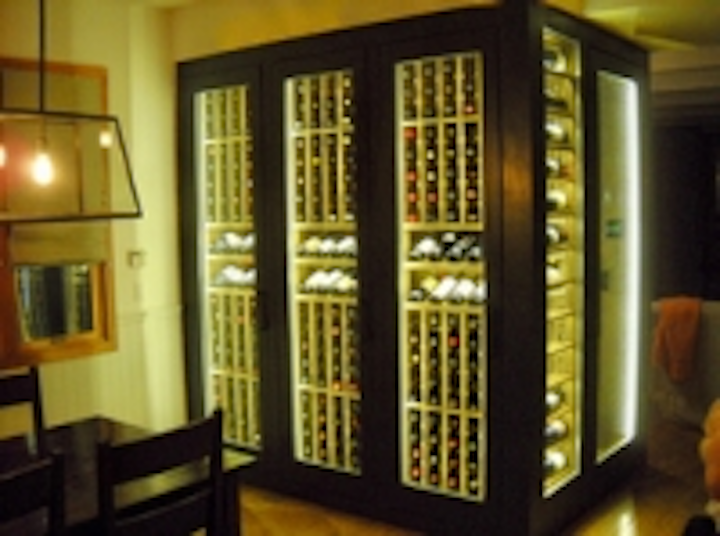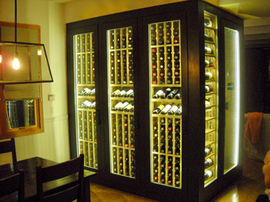 Date Announced: 16 Apr 2012
EnvironmentalLights.com, a leading source for high-quality, sustainable LED lighting, has teamed up with Vista Wine Cellars to provide energy-efficient lighting systems for custom wine cellar installations. When combined with the proper climate-control and insulation, wine cellars provide the protection needed while also promoting sustainability and beauty. Vista Wine Cellars, owned by Robb Scheele, has been designing custom wine cellars for years with LED lighting systems from EnvironmentalLights.com.
"We are proud of the work our customers are doing with LED lighting and the efforts they are making to provide sustainable, energy-efficient solutions to their customers" said co-founder and vice president of EnvironmentalLights.com, Anne Thorson. "We have worked with Vista Wine Cellars for years and it has been so rewarding to partner with them and see the beautiful results."
Whether designing to a small space under a staircase or a full room conversion, Robb Scheele is a craftsman who can create a custom cabinet or wine display to fit any area. A wine cellar adds value to a home, and provides the proper environment to store wines – in a cool, humidity-controlled space where the wines can age properly.
"The workmanship is excellent – down to the last detail – which does not go unnoticed by all those who see the 'work of art' created as they enter our home," stated a Vista Wine Cellars customer. "The different sizes of bottles all fit where they should and the openness and space from top to bottom makes the wine room easy to access and use whenever we want. The lighting is perfect and the cooling system works better than we expected."
Fluctuating temperatures, low humidity, and high lighting can be harmful to a wine collection. A wine cellar should have the proper insulation and vapor barriers to eliminate the risk of mold and mildew, as well as be energy-efficient to save you from high energy bills. The average home is heated to 70 degrees with the around 20 to 30 percent humidity levels. A wine cellar is kept at about 55 to 57 degrees and the humidity at about 50 percent.
In a recent residential installation, Vista Wine Cellars transformed what was once a closet in a living room, into a stunning glass-enclosed wine cabinet to hold 850 bottles. Not having the space to build a full wine cellar, the design team was able to convert the closet area into a custom wine cabinet to compliment the contemporary design of the home and create a natural divider between the living room and dining room.
"One of the most important questions to ask before designing a space is what type of wines are in the collection," said Scheele. "We always build to the collection. Pinot and Shiraz bottles are larger format than Merlots, and a lot of people have Champagne collections or special magnum bottles they want to highlight in their display."
Utilizing this knowledge of the collection, Vista Wine Cellars designed the cabinets to have display shelves in the cabinet to feature these special bottles. Specialty lighting and label-forward, angled racking were installed to highlight and easily display the names of these wines. Using warm white LED strip lights from EnvironmentalLights.com, they were able to create a custom lighting system to fit the cabinet design.
"LED strip lighting is great for these types of designs because it is flexible, thin and very bright for the little amount of power required," explained Scheele. "We were able to easily line each of the doors and display shelves with the lighting, and connect it all with a multi-switch lighting system that allows the homeowner to turn on different sections of the cabinet to create accent lighting in their home."
LED strip lights are sold in reels of 5 meters (16.4 feet) and are cuttable in increments of 50 mm (1.97 inches), so they are perfect for custom designs. Strip lighting is available in a variety of white color temperatures, such as very warm white (2,400°K), warm white (2,700°K), neutral white (4,000°K) and daylight white (6,500°K). LED lighting produces no Ultra-Violet emissions, which could affect the aroma, flavor and structure of wine. Plus, LED lighting is very energy-efficient compared to incandescent lighting, using 75 percent less energy and lasting up to 25 times longer. The expected lifetime can range from 35,000 to 50,000 hours, compared to 1,000 to 2,000 hours with incandescent lights.
"Robb likes to experiment with the different types of LED lighting we sell, and always asks about the latest trends in the industry and installation ideas" said Bruce Bishop, operations manager of EnvironmentalLights.com. "From dimming and non-dimming lighting systems, to color-tunable and color-changing RGB strip lights for creating effects – he is always looking for ways to improve and customize his designs."
Color tunable strip lighting allows a user easily adjust the color temperature of white (between 2,400-6,500°K) with a wireless remote, letting them create the atmosphere they want and change at any time. Warm white color temperatures (2,400-3,000°K) replicate the yellowish tones of traditional incandescent lights found in most homes.
Design your dream wine display with Vista Wine Cellars and EnvironmentalLights.com, and know that you are giving your wine collection the care and protection it needs. For more information visit www.vistawinecellars.com and www.environmentallights.com.
About EnvironmentalLights.com
EnvironmentalLights.com is a leading resource for sustainable, energy-efficient LED lighting products to meet the needs of business, commercial and residential clients. The company offers a broad spectrum of light bulbs, strip and rope light, under cabinet light systems, Christmas lights, dimmers, controls and necessary hardware for any lighting project.
Environmental Lights can provide expert advice in the selection and design of lighting systems. For more information about Environmental Lights, visit www.EnvironmentalLights.com.
About Vista Wine Cellars
Vista Wine Cellars is dedicated to creating the finest wine cellars for residential clients. With over 12 years experience, they are committed to the highest quality in workmanship and unmatched materials. The company understands the passion its clients have for wine in creating wine cellars that provide the finest environment for each collection. For more information about Vista Wine Cellars, visit www.vistawinecellars.com.
Contact
Stacy Brown Marketing Director Environmental Lights (888) 880-1880 x109 (707) 281-0567
E-mail:sbrown@environmentallights.com
Web Site:www.environmentallights.com