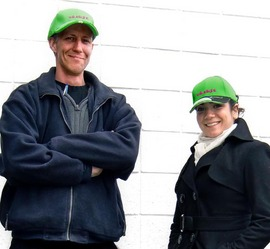 Date Announced: 05 Apr 2012
Toronto, ON - In a pursuit to achieve the ultimate customer satisfaction and the appreciation of Valuelight brand,
company have appointed Mark Thompson as the Operations Manager of Valuelight.
Effective Monday April 5, 2012, Mark assumes an important leadership role and use his total dedication to customer satisfaction, combined with his impressive skills and his vast experience from working with some of the largest companies that include General Motors, to do the following:
Mark will plan, organize, schedule and coordinate the Warehouse & Inventory, Production, Shipping & Receiving and Q.C./Q.A. departments, plus motivate and directly or indirectly supervise all team members responsible for proper daily functioning of these departments.
Dealing with surging demand for Valuelight solid state luminaires, Valuelight's and Mark's common key immediate goal is to establish a guaranteed timely and accurate arrival of all Valuelight orders to their customers.
Prior to joining Valuelight, Mark Thompson was Distribution Centre Supervisor at Dominion Colour Corporation, a well established, globally exporting large Canadian company with 280 employees. There, he was responsible for a team that arranged border crossing and brokerage, managed annual physical inventory counts, ordered raw materials and reconciled vendor purchase orders; prepared and managed annual budgets; and initiated cost savings tactics by focusing on efficiency and process improvement.
Mark has always actively supported "Team" values by encouraging suggestions for new ideas, moving forward in continuous improvement.
He also trained staff in job duties, safety related procedures and company policies, completed necessary "Customer Complaint" reports and recommendations for quarterly management reviews. He monitored day to day operations for compliance with established safety, sanitation and product movement procedures, and maintained employee training certificate courses and work place discipline in accordance to company policy.
"We are very fortunate to have someone with Mark's expertise in both operations and logistics joining the Valuelight brand. Combined with his experience, he will be a key player in Valuelight's immediate future as we continue our rapid growth by acquiring and servicing more and more customers that include major Electrical and Lighting Distributors, Fortune 500 companies and some of the most prominent National Accounts." said Managing Director Alex Visan.
Mark Thompson joins the Valuelight team during a time of growth and critical acclaim. Over the recent years, Valuelight has positioned itself as the "number one" Made-in-Canada LED brand, helping numerous commercial and industrial customers to fully embrace the exciting world of the new Solid State Lighting technology with all its benefits and advantages. Included are TD Canada Trust, Honda and Toyota Manufacturing, Ford Motor Company, Enbridge, Hallmark Cards, Mac's, Alimentation Couche-Tard, Metro, Sobey's, The Source, and several municipalities and utility companies with LED street lights.
The addition of Mark Thompson at the helm of operations continues Valuelight's goal to further grow offerings of the leading edge lighting technology, combining top performance, highly reliable commercial light fixtures with affordable, mainstream price points.
Mark is in the attached picture with Alia Emami Valuelight National Sales Manager. Both are wearing the new Valuelight "Think Green" hats that have embedded high-power, battery operated white LED lights. This is a free giveaway to Valuelight customers to promote the benefits of Solid State Lighting.
Contact
Alia Emami | National Sales Manager Ph. 1-800-49-LAMPS | 1-416-497-8000 Fax: 1-800-243-9494 | 1-416-352-5322
E-mail:ing@valuelight.com
Web Site:www.valuelight.com/LED