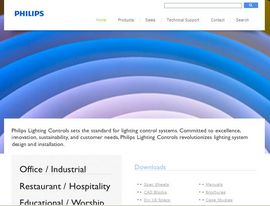 Date Announced: 25 Apr 2012
Philips Lighting Controls proudly announces the launch of our new and improved Web site,
http://www.philipslightingcontrols.com
Our information center features clean, modern design with quick and easy access to Philips Lighting Controls solutions. Electrical contractors, facilities managers, lighting designers, engineers, and other lighting professionals now have access to more information than ever.
Our Products page provides a high-level overview of the Philips Lighting Controls portfolio. Individual product pages have links to data sheets, drawings, installation guides, and user manuals.
Our Gallery features businesses around the world using Philips Lighting Control products such as Dynalite, Energy Efficient IGBT Dimming, and other solutions.
Please update lolcontrols.com and etdimming.com links and bookmarks to www.philipslightingcontrols.com.
Return frequently for product announcements, news of events, and content updates. We encourage visitors to sign-up to receive regular updates via email.
About Philips Lighting Controls
Philips Lighting Controls, a division of Philips Electronics North America Corporation, provides leading edge lighting and office automation systems for commercial, industrial, and residential applications.
Philips Lighting Controls facilitates dimming control, energy management, and system integration for industrial, office, warehouse, retail, hotel, restaurant, event center, educational, healthcare, entertainment, and institutional applications.
About Royal Philips Electronics
Royal Philips Electronics of the Netherlands (NYSE: PHG, AEX: PHI) is a diversified health and well-being company, focused on improving people's lives through timely innovations. As a world leader in healthcare, lifestyle and lighting, Philips integrates technologies and design into people-centric solutions, based on fundamental customer insights. Headquartered in the Netherlands, Philips employs approximately 122,000 employees with sales and services in more than 100 countries worldwide. With sales of EUR 22.6 billion in 2011, the company is a market leader in cardiac care, acute care and home healthcare, energy efficient lighting solutions and new lighting applications, as well as lifestyle products for personal well-being and pleasure with strong leadership positions in male shaving and grooming, portable entertainment and oral healthcare. News from Philips is located at www.philips.com/newscenter.
Contact
Marty Maldonado Philips Lighting Electronics N.A. 972-389-6170
E-mail:marty.maldonado@philips.com
Web Site:www.philipslightingcontrols.com