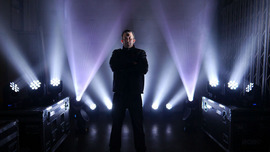 Date Announced: 25 Apr 2012
Single source live event technical solutions provider, Universal Event Productions (UEP) from Buckinghamshire UK, has invested in the latest Robe LED moving lights to boost its inventory of LED lightsources.
This is following busy trading for the last two years and a healthy order book for the upcoming months. It's also part of an on-going commitment to providing greener and more eco-friendly lighting rigs to its varied client base.
This latest purchase involves six of Robe's popular ROBIN 600 LEDWash units to complement the 12 ROBIN 300 LEDWashes bought last year, plus 12 of the new ROBIN 100 LEDBeams – just launched at Prolight+Sound, Frankfurt in March and already proving hugely popular. Also new are six Robe ROBIN DLX LED Spots, another hot newly launched LED product.
Says UEP's Steve Butcher, "Many events are becoming a lot more carbon-conscious, and, apart from that from a rental perspective, there are all the advantages like greater flexibility for all applications and the lower maintenance that comes with good quality LED sources".
Butcher reckons that around 75% of UEP's lighting stock is now LED based.
This is a dramatic change in philosophy that's happened over the last five years as UEP also designs most of the shows to which it supplies equipment.
They have been buying Robe products for the last 10 years – since the brand was first launched in its own right - and based on this very good experience, have decided to stay with Robe for its reliability.
UEP was an early adopter of LED and digital lighting technology.
It was among the first rental companies in the UK to purchase James Thomas's original PixelLine LED battens – 24 of which are still going strong today, out on a myriad of corporate presentation and live music events for which the company provides equipment and design services.
They also have a stock of i-Pix BB4s and Satellite Mk Is and Mk IIs, GDS wireless uplighters and large quantities of LED PARs.
A major reason that UEP has pursued the LED route is because most of the fixtures are now wireless, which reduces cabling and increases the speed at which they can be deployed on site. The Robe ROBIN fixtures can all have their DMX addresses pre-assigned before even being fired up as the displays have battery backup, saving valuable time during the get-in.
A second important point is the light weight of the units, specially of the newest moving lights compared to a 575 or a 700 discharge lightsource – with no compromise on the brightness. Consequently, more flightcases can be fitted into a smaller vehicle which consumes less fuel, etc. .. so the green benefits, even though they might appear small when taken individually, can all add up … making an aggregate contribution to cleaner, more sustainable shows.
Butcher also highlights the greater creative potential of using LED lightsources, "You can go into even the smallest or most challenged space for power and use a reasonable amount of lights, due to both lower power consumption and the reduced size of the fixtures".
UEP has taken all these benefits and used them to great effect in its innovative designs and presentations.
The company services numerous events for technology and telecoms companies, all of which require the clean, crisp hi-tech/HD look for which LED sources are ideal. Part of the current LED investment is also to light a series of events for a leading sports and fashion brand over the summer.
Photo shows UEP's MD Steve Butcher with the new Robe ROBIN 100 LEDBeams and DLX Spots
Contact
Louise Stickland +44 7831 329888 (cell) +44 1865 202679 (office)
E-mail:louise@loosplat.com
Web Site:www.U-E-P.co.uk