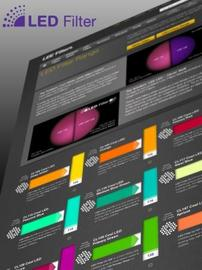 Date Announced: 23 Apr 2012
Have you ever tried using coloured lighting filter in front of a Cool White LED fitting? It ends up looking so completely different that if you did not know better you would think it was a totally different colour. The problem is made even worse when mixing Cool White LED and Tungsten sources together, trying to get a colour match from the two different sources is virtually impossible.
To help fix this problem LEE Filters have launched a new range of LED Filters. These new filters when used on Cool White LED fittings (>6000K) have been specifically designed to give a visual colour match to existing LEE colours on Tungsten (3200K). Try to think of them as a range of colour-corrected colours as opposed to colours that are colour temperature corrected.
Ten popular LEE colours are available as LEE LED Filters.
CL104 - Cool LED Deep Amber
CL105 - Cool LED Orange
CL106 - Cool LED Primary Red
CL115 - Cool LED Peacock Blue
CL116 - Cool LED Medium Blue Green
CL117 - Cool LED Steel Blue
CL126 - Cool LED Mauve
CL139 - Cool LED Primary Green
CL147 - Cool LED Apricot
CL158 - Cool LED Deep Orange
To find out more about the new LEE LED Filters visit www.leefilters.com where you can see a video of lighting designer Declan Randall demonstrating them.
Contact
LEE Filters, Central Way, Walworth Business Park, Andover, Hampshire, SP10 5AN Tel: +44 (0) 1264 366245
E-mail:sales@leefilters.com
Web Site:www.leefilters.com