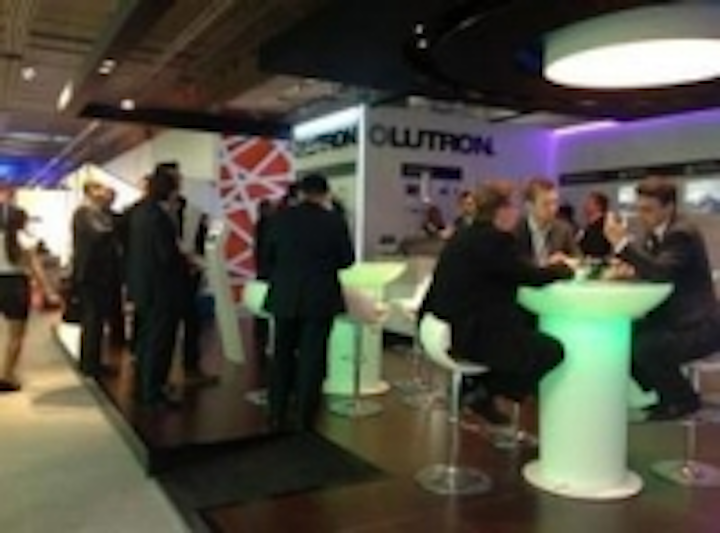 Date Announced: 27 Apr 2012
Lutron Electronics Co. Inc., experts in light control, showcased its latest range of energy efficient commercial and residential light controls at Light+Building 2012. The stand showed the potential of Lutron's energy-efficient solutions, including Quantum, Hospitality Solutions, EcoSystemand HomeWorks QS, the company's iconic residential control system. Visitors to the stand were also interested in Lutron's LED Driver which provides smooth 1% dimming as well as Lutron's new C•L™ Dimmers for dimmable CFL and LED bulbs. Lutron technology offers end users the ultimate in natural and electric light control as well as significant energy savings. From occupancy sensors to fully scalable solutions, Lutron has the ability to control it all.
The Industry Leader
For over 50 years, Lutron has met and exceeded the highest standards of quality, making us the industry leader in light control. As an industry innovator, Lutron holds over 2,000 patents and manufactures over 15,000 products, including the invention of the first solidstate dimmer and fluorescent dimming technology.
Lutron is also the most highly recommended and most consistently selected light control provider in the market due to exceptional reliability and customer support. Lutron is the only company that can control both daylight and electric light, and as a complete light control provider, manufactures the equipment installed and are fully accountable for the system's performance and reliability.
Sustainability Fast Facts
Lutron customers save over 9 billion kWh of energy each year, with the installation of Lutron's energy suite of light control products. This is equivalent to:
•As much energy as 2,000 windmills produce in one year
•Enough energy to light 4.5 million homes for one year
•Enough energy to light and power Times Square for 10 years
•As much CO2 as 2 million acres of trees absorb in one year
Contact
Publicasity +44 (0) 1442 261199
E-mail:lutron@publicasity.co.uk
Web Site:www.lutron.com