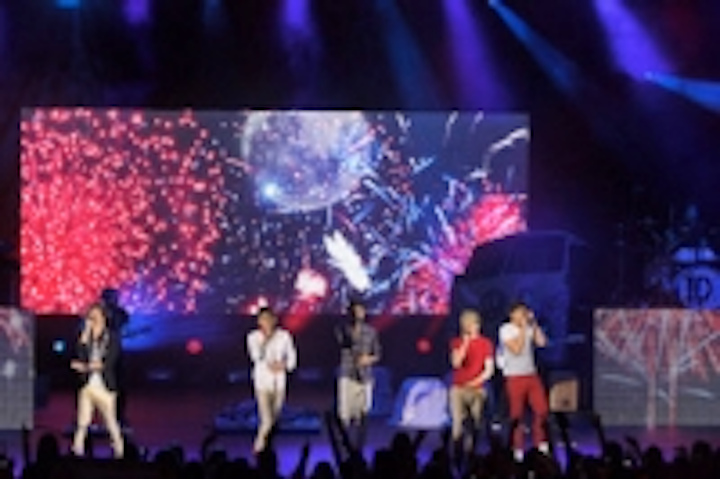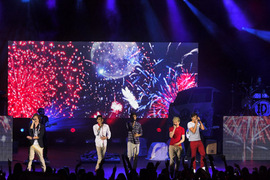 Date Announced: 05 Apr 2012
Blackburn UK based lighting & visuals rental company HSL supplied lighting equipment and LED screens to the first production tour for the UK's newest boyband sensation, One Direction, who have just completed a totally sold out 6-week UK arena/theatre tour!
HSL was working for Production North, who asked Dave Lee to create a lighting design for the tour, working alongside show producer Louise Doyle. Together, they helped deliver a lively and entertaining performance to One Direction's young and hugely enthusiastic audience – renowned for their aggregate screaming efforts to tip the 130 dB mark – enough to give any PA a run for its money!!!
HSL's project manager Mike Oates comments, "We were very happy to be working with production director Steve Levitt, production manager Mike Clegg and the team from Production North again, who always produce a great live show with real entertainment value. We were also able to offer an integrated and efficient technical package encompassing both lighting and LED screens."
In 2011, HSL made its first major investment in LED screen, purchasing large quantities of Martin EC10 and EC20 surface, some of which was utilised for this tour.
Dave Lee's lighting design was based around complimenting and matching the bespoke video footage commissioned by Doyle that unfolded the show's narrative. This followed 'The Boys' - Niall, Harry, Liam, Zayn and Louis - through two holidays and a term at high school.
Upstage centre was a 15 metre wide by 4 metre tall EC10 screen, and the two band risers stage left and right of this were masked by two EC20 screens, each measuring 2.4 metres wide by 1.4 tall.
The content on these, plus an elaborate series of props including a bonfire, beach rocks, a VW camper van, a long dining table, sofa, etc., created a fast moving, constantly changing stage environment.
The LED screens also made it very bright onstage, so Lee chose lighting fixtures that would hold their own in terms of output, and add all the drama and spectacle needed for One Direction's largely up-tempo, vivacious performance.
He also designed the rig to be flexible enough to fit into both arenas and theatres … filling the larger spaces nicely.
The lighting fixtures were hung on four straight 50 ft long trusses flown above the stage, all staggered slightly in height to add depth and an additional visual dimension.
On the back truss were seven Martin Professional MAC 2K XB Washes, eight VARI*LITE V*L3000 Spots and eight Atomic strobes, together with six Martin 101 LED washes. The EC10 screen was also flown from this truss.
The upstage-mid truss was rigged with seven V*L 3000 Spots, six Robe ROBIN 300 Beams and 15 MAC 101s. The 101s were all hung on varying length steel drop-wires. The downstage-mid truss featured seven Robe ROBIN 300 Beams and four custom chandeliers, which were lowered in for the final song.
On the front truss were ten MAC 2K XB Washes and a snow machine, which blasted the forestage and front rows of the audience in fake snow during "One Thing", whilst the Boyz engaged in an Alpine snowball fight with scenic balls!
All four trusses each had eight 2-lite blinders rigged along their front rails, making an illuminated 'pros arch' effect, also used for lighting the audience and drawing them into the stage action.
The floor was utilised for specific strategic lighting positions with another five ROBIN 300 Beams, two V*L 3000 Spots and four Atomics tucked in between the risers and props.
Lee used a Hog iPC console to programme and run all the lights.
He worked alongside his "Fantastic" HSL crew of Johnny Harper and Dom Crookes, and comments, "As always HSL were faultless as a supplier! Mike is an amazing project manager, the kit was in excellent condition and so well prepped that they didn't hear from us for six weeks once we left the warehouse!"
Contact
Louise Stickland +44 (0)1865 202679 +44 (0)7831 329888
E-mail:louise@loosplat.com
Web Site:www.hslgroup.com