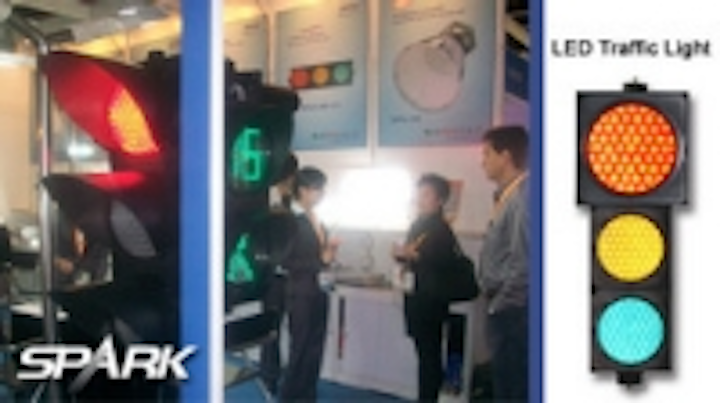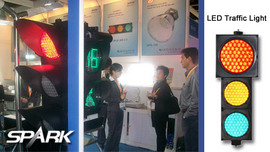 Date Announced: 23 Apr 2012
Hong Kong Light Fair spring version took place during 6th, April to 9th, April. Booth of SPARK is at the center of third floor. At the corner of the booth, SPARK presented its strength product LED traffic light which attracted lots of customers to consulting.
LED traffic light is one of the eldest products in SPARK. With about 12 years of experience in producing LED traffic light, SPARK provide full range of traffic light, including vehicle traffic light, pedestrian traffic light, dynamic pedestrian light, driveway traffic light, traffic count down light, solar warning light, signal controller and so on.
In the booth, SPARK presented its full ball LED traffic light, cross and arrow traffic light and dynamic pedestrian light. All of SPARK traffic lights are CE and RoHS listed, compliant with EN12368, save energy as much as 90%, with life span of about 70000 hours. Besides, SPARK traffic light is of high quality, with light source to be of HP and Cree. All the products are of nice appearance, with good color uniformity. For SPARK full ball traffic light, it is of double lens, the first lens to gather the light, second lens to spread the light. This double lens design ensures large visual angle and good visual effectiveness.
SPARK dynamic pedestrian light especially attracted lots of customers. Almost everyone go by will take a good look at it and then smile; they are impressed by the vividness of the running man in the traffic light. At the first stage, the running man in the pedestrian light runs at normal speed, as time goes by, the man running quick and quick, as there is no much time left in the count down timer. Customers feel very interesting and saying it is very cute and professional design.
SPARK has been manufacturing LED traffic light for more than 12 years, with Traffic Lights projects in over 20 countries in America, Asia, Middle East and Africa, which wins SPARK good reputation. During the fair, some customers show interest in solar LED traffic light. They feels very confident in the cooperation when they are told SPARK have finished dozens of solar traffic light projects with good success.
In the booth, SPARK also presented their LED street light, LED tunnel light, LED high bay, LED tube light, LED Panel and LED recessed down light, which is also very popular among customers.
Contact
Keziah Song General Manager Tel: (86 755) 8390 4366 Fax: (86 755) 8390 4766
E-mail:sales@spark-oe.com
Web Site:www.spark-oe.com