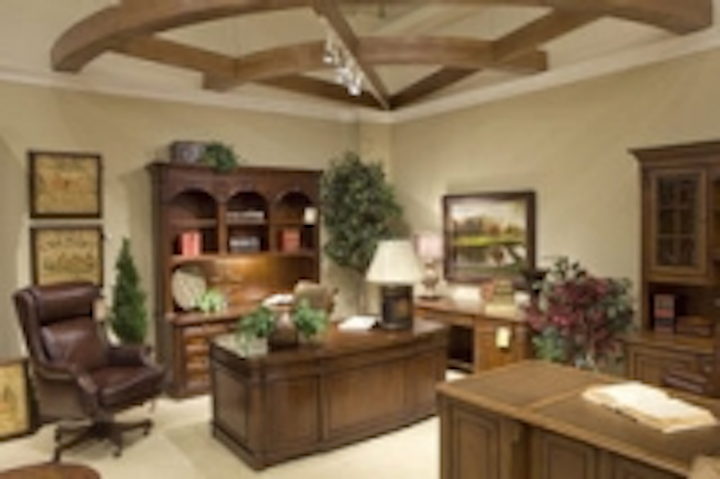 Date Announced: 05 Apr 2012
Cleveland, Ohio — 'The Longest Furniture Store on the Eastern Shore!' is found in Laurel, Del., where Johnny Janosik has served customers with "the shortest prices" since 1953. When management aimed at all-new LED illumination for its 180,000-square-foot facility, GE Lighting hit the mark with energy-efficient lamps that will yield $100,000 yearly electricity savings while setting a proper tone for showroom merchandise.
"Cost reductions are always appreciated of course, but color rendition was a bigger concern for us," said David Koehler, CEO of Johnny Janosik. "If lighting doesn't reflect the hue of a fabric for instance, it's a problem when we deliver the customer's sofa and are told, 'That doesn't look anything like what I saw in the store!' Light, linen and dark cherry wood finishes are also particularly sensitive to proper lighting."
Johnny Janosik conducted a seven-month evaluation of several competitive LED offerings beginning in early 2011. The home furnishings seller sought the fixture that best solved its exacting formula for lumen output (the total amount of light emitted by a source) and foot-candle intensity (the amount of light that actually falls on a given surface).
"Our ceilings vary from 12 to 14 feet high so we needed the light to deliver a powerful punch without being too bright that it washed everything out," added Koehler.
In October, GE's energy smart® 12-watt high-output LED PAR30 long neck lamp was selected to replace the store's 4,000 75-watt halogen spotlights. Although the LED lamps produce approximately 30 percent fewer lumens than comparable incandescent and halogen options, advanced optics concentrate light on the target, diminishing wasted extraneous light.
"Before the swap there was a lot of ambient light that tended to give our showroom a bright 'big box' appearance," Koehler noted. "Now that the LEDs are focused down on the floor, there's very little light noise above the displays, which really makes them 'pop' without adding all that extra illumination throughout the store."
The 63-watt difference per fixture translates to an average $8,500 monthly electricity savings for Johnny Janosik, which also qualified for an Energize Delaware program rebate by adopting more efficient lighting prior to year's end. Energize Delaware offers a variety of avenues for commercial businesses to become partners in Delaware's sustainable energy future.
"GE worked hard to show us what our savings would be and closely coordinated with Energize Delaware to fully realize our refund opportunity," said Dan Ringer, CFO for Johnny Janosik. "At each step along the way GE was a valuable partner to have in our corner."
Rated for 25,000-hours life, GE's PAR30 LEDs will further mitigate maintenance spending at Johnny Janosik where halogen lamps had lasted between 3,000 to 5,000 hours, requiring once-a-year replacement of burnt bulbs at a cost of $5 each-an annual $20,000 investment.
"Six months after the store opened in 2006 we entered a constant state of changing lights," recalls Ringer. "Every day there were lamps going out, and when you have several thousand you just can't keep up on it. We're relieved that won't be an issue any longer for years to come."
Several hundred linear fluorescent fixtures in the superstore were also upgraded with GE's 28-watt T8 Ecolux® UltraMax® lamp which matched the color temperature of the new PAR30 LEDs. The overall quality and light level uniformity of GE's complete showroom solution even allowed Johnny Janosik to eliminate a number of fluorescent fixtures while keeping others switched off, further lessening total energy consumption.
Project payback, including utility cutbacks and rebates, will be realized in less than one year. Accounting for combined electricity and maintenance savings, Johnny Janosik has softened the annual impact to its lighting budget by more than $120,000 with GE LED technology.
Learn more about the future of lighting and GE innovation at www.gelighting.com, www.gelightingsolutions.com and by engaging with GE Lighting through Facebook, Twitter and YouTube.
About Johnny Janosik
Johnny Janosik Furniture is Delmarva's largest furniture retailer and the Eastern Shore's Largest Furniture Store, serving Delaware, Maryland, Virginia and New Jersey. The new showroom is the "longest store on the shore" with a full line of furniture, home furnishings and mattresses. Johnny Janosik is the premier home furnishings retailer in Delaware and the surrounding areas, offering interior design and floor planning assistance and the lowest factory direct prices in Delaware. Visit www.johnnyjanosik.com to learn more.
About Energize Delaware
The Sustainable Energy Utility (SEU) is a unique non-profit organization offering a one-stop resource through its Energize Delaware initiative to help residents and businesses save money through clean energy and efficiency. The SEU was created in 2007 by the state of Delaware to foster a sustainable energy future for the state. The SEU model is the first of its kind to be established in the United States, and is being replicated in several other communities around the world. For more information, visit www.energizedelaware.org.
Contact
David Schuellerman
E-mail:david.schuellerman@ge.com
Web Site:www.gelighting.com