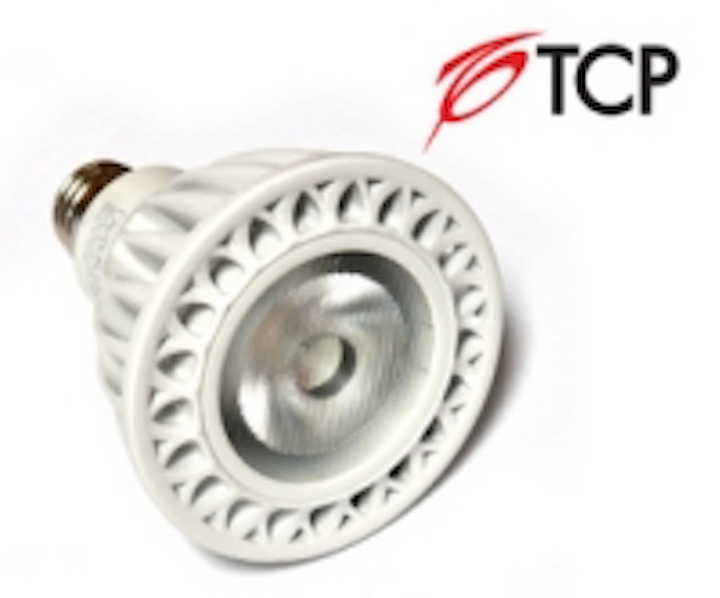 Date Announced: 02 Apr 2012
TopTen USA, a leading source of news on sustainable products, has ranked the PAR30 and PAR38 TCP LED bulbs as the most efficient and highest-quality consumer option on the market.
EnvironmentalLights.com, a source of high-quality, energy-efficient LED lighting products, offers these bulbs for consumers looking to promote sustainability.
The TCP LED PAR38 bulb was ranked #1 out of 67 entries and the TCP LED PAR30 bulb was ranked #1 out of 49 entries. Judging was based on important factors such as energy savings, economics (lifetime cost of light), photometrics (measured light performance), and light appearance.
The TCP PAR30 and PAR38 bulbs use the world's best LED-chip technology, giving the LEDs the best light output, outstanding energy efficiency and consistent and uniform color. Each bulb also has an LED driver installed inside, that features an integrated chip controller for optimized power management and full feature functionality.
TCP's PAR bulbs combine the brightest LEDs with the best performance on many LED/CFL dimmers. They fit into a standard E26 base, so their uses are endless. These bulbs contain a single light source and a diffusing lens. These LED bulbs are durable due to the research that went into their design as well as the high-quality technology and design construction. This results in less general maintenance required to replace and maintain the bulbs – in comparison to incandescent alternatives – which decreases the overall operational cost for a business or home.
TCP LED PAR30 Bulb
The dimmable PAR30 light bulb provides bright LEDs and great dimming performance on many standard dimmers. The bulbs are available in both soft white (3,000° K) and warm white (2,700°K), as well as uniform beam patterns in 25º and 40º options. Plus the bulbs have a very high color rendering index (CRI) of 85, an important feature for interior lighting showing the "true" colors of objects in the room. For example displayed artwork or kitchen counterspace.
Due to the top-quality construction and design, this bulb has a lifetime expectation of 50,000 hours (lasting 15 times longer than a regular halogen bulb) and a five-year warranty. Homeowners can install it as an investment in the energy-efficiency of their home, without sacrificing looks or productivity. The heatsink is also painted white to match most interior designs, and the unit can smoothly dim from 100 percent to 0 percent – similar to a halogen bulb but without the unflattering flickering.
TCP LED PAR38 Bulb
For those looking for a slightly larger bulb and increased brightness, consider the TCP PAR38 LED bulb. This product maintains all of the wonderful and energy-efficient qualities of the PAR30 while having an increased lumen output of 1100. The color temperature and beam angle options provide consumers with the flexibility to choose an option to best fit their needs. This product also has a lifespan of approximately 50,000 hours and a five-year warranty.
Choosing an energy-efficient product can take time and research. Consider talking with an LED lighting expert at EnvironmentalLights.com about the best lighting option for your home if you are contemplating an investment in LED technology. In addition to the award-winning TCP LED bulbs, they offer a variety of LED lighting products to choose from to create an energy-efficient modern home.
About EnvironmentalLights.com
EnvironmentalLights.com is a leading resource for sustainable, energy-efficient LED lighting products to meet the needs of business, commercial and residential clients. Founded in 2006 by Greg and Anne Thorson, the company offers a broad spectrum of light bulbs, strip and rope light, under cabinet light systems, Christmas lights, dimmers, controls and necessary hardware for any lighting project. For more information, please visit www.EnvironmentalLights.com.
Contact
Stacy Brown Marketing Director (858) 521-0233
E-mail:sbrown@environmentallights.com
Web Site:www.environmentallights.com