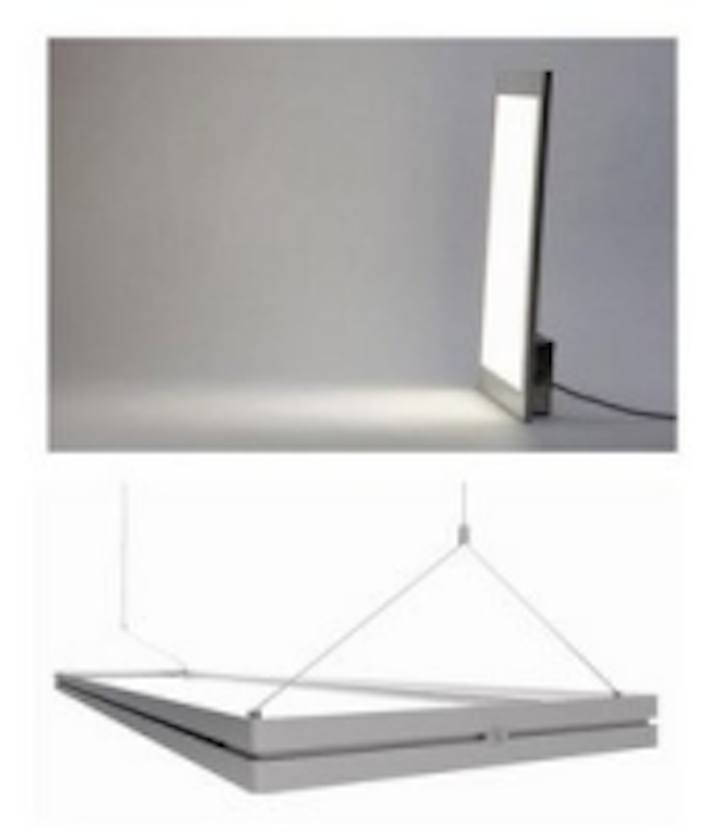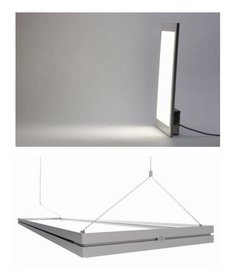 Date Announced: 30 Apr 2012
At Light+Building GE Lighting is showcasing the new Lumination™ LED Luminaires range. The ground breaking application of LED technology offers the first true alternative to LFL lighting for office, retail, education and healthcare environments - making significant energy savings a commercial reality and introducing full dimming capability and unrivalled architectural styling to both retrofit and new build projects.
The luminaires create a perfect blend between architectural aesthetic and technical performance. They feature an ultra-thin "waveguide" with built-in LED technology that offers a seamless and hassle-free transition from existing LFL fixtures to a solution that will maximise the full potential of LEDs.
Lumination™ LED Luminaires use complex optical control technologies to deliver bright, diffused light to both walls and ceilings. Their unique optical design introduces illuminated zones directly into the ceiling plane. This delivers a vibrant lit workplace and meets the testing regulatory requirements of office lighting.
Lumination™ LED Luminaires create a pure aesthetic in harmony with other key building elements, ensuring total integration within the space.
Simon Fisher, Indoor Luminaire Solutions General Manager for the EMEA region, said: "The most common question I get asked by customers is when will the time be right for me to jump into LED technology? Well, for the office environment the time is now, with Lumination™ LED Luminaires offering significant savings in energy and maintenance costs at a time when the pressures to squeeze and operate responsibly have never been greater."
Compared with fluorescent lighting, Lumination™ LED Luminaires offer energy savings of up to 50%, longer life, slimmer profiles, innovative form factors and lighting controls, such as full dimming capability. As an LED system, the luminaires also provide environmental and ease-of-recycling gains derived from not containing mercury or other hazardous materials.
Furthermore, Lumination™ LED Luminaires have been designed to harmonise with theaesthetics of a modern office environment, ensuring total integration within the space. Available in a recessed 600mm x 600mm format, with additional recessed versions, Lumination™ LED Luminaires offers a range of Suspended and Linear luminaires -that will appear to float in thin air through a dramatically framed light source -available from mid-2012.
To match German market standards, recessed Lumination LED Luminaires will also be available in 620x620mm format.
The LED technology and optical performance of the new luminaires work in tandem to eliminate the hot spots common among fluorescent options. Eachluminaire will deliver uniform, bright light—both diffuse and directional—in a thin design that allows for a clean appearance. The controlled contrast functionality of the new GE Lumination LED Luminaires will allow a user to enhance a room's overall aesthetic.
GE Lighting
GE Lighting invents with the vigor of its founder Thomas Edison to develop energy-efficient solutions that change the way people light their world in commercial, industrial, municipal and residential settings. The business employs over 17,000 people in more than 100 countries, and sells products under the Reveal and Energy Smart consumer brands, and GTx, Immersion, Infusion, Lumination and Tetra commercial brands, all trademarks of GE.
Contact
GE Lighting
Web Site:www.gelighting.com/LightingWeb/emea/