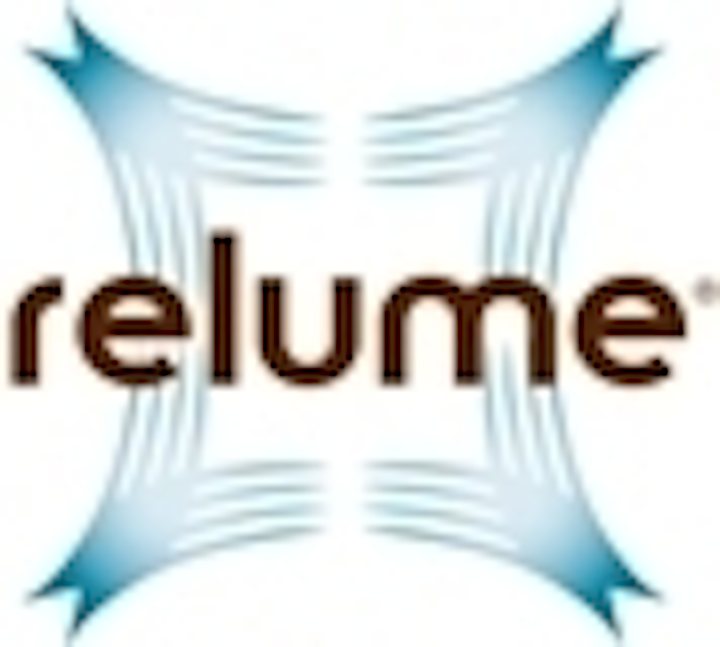 Date Announced: 26 Apr 2012
Oxford, Mich. – Relume Technologies, a leading manufacturer of light-emitting diode (LED) products and smart grid control systems for outdoor lighting applications, has announced the launch of its new multimedia website, www.relume.com. The redesigned site is the final phase in the company's rebranding effort that also included a new logo, marketing materials and social media presence.
Relume's new site features a user-friendly, intuitive navigation, making it easy to find product information, view examples of real-world applications, and locate a Relume sales specialist by geographic region.
"Our goal for the redesign was to create a website that served as a comprehensive outdoor LED lighting resource for municipalities, business owners and government entities looking to make the switch to energy efficient and cost effective lighting solutions," said Crawford Lipsey, CEO for Relume. "We are pleased that the new site showcases our deep knowledge base, technical expertise and extensive product offerings."
Customers searching for product information can browse by application or type, making it easier to find products that fit their specific needs. In addition, specification sheets, photometric data, sales brochures, and images are available on each Relume product.
The company's new resource center includes tools and information to help customers evaluate LED lighting products, such as case studies, whitepapers, an energy savings calculator and a list of DCL qualified products.
The communications area of the site features a press room for journalists, multimedia center with product videos and images, and comprehensive documents library. From the communications area, visitors can sign up for Relume's newsletter to receive regular updates on the company's activities.
In conjunction with the announcement of its redesigned website, Relume has also launched its LinkedIn and Facebook pages, where the company will post its latest corporate news, events and product information.
About Relume Technologies
Relume Technologies is a Mich.-based manufacturer of highly efficient, environmentally friendly, and cost effective LED lighting products and control systems. The company's innovative technology is used in municipal lighting, commercial signage, outdoor advertising, transportation, and U.S. military applications. Relume's products are American-made, ISO 9001:2008 certified and carry an industry leading seven year warranty.
Relume is a founding member of the Michigan Solid State Lighting Association, and supports the organization's mission of ensuring that Michigan is a global leader in solid-state lighting, research and development, and manufacturing. Relume was recently recognized as one of Michigan's 50 Companies to Watch by the Edward Lowe Foundation. For more information, visit www.relume.com or connect with the company on Facebook or LinkedIn.
Contact
Relume Technologies Contact Curt McIntosh Relume Technologies Phone: +1.248.969.3800
E-mail:cmcintosh@relume.com
Web Site:www.relume.com