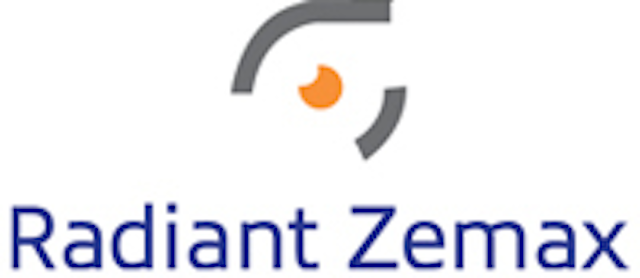 Date Announced: 10 Jul 2012
REDMOND, Washington - Radiant Zemax, LLC (www.RadiantZemax.com) today released Zemax 12 Release 2, the latest version of the industry standard software for optical and illumination design, to help engineers around the globe solve their toughest design challenges. The new version is available now through the company's website.
Zemax 12 Release 2 simplifies how users create optical and illumination systems and integrate them into product designs. The entire process is streamlined by access to the largest library of light source models in the industry, advanced simulation and optimization features and CAD capabilities that include fully unified SolidWorks and Autodesk® Inventor® design within the Zemax environment.
"Zemax 12 Release 2 has a number of new breakthrough features that will delight new and existing users," said Paul Caragher, chief executive officer at Radiant Zemax. "Numerous new and enhanced design, simulation and optimization features enable product designers and engineers to move quickly from insight to implementation."
New Breakthrough Features
Zemax 12 Release 2 builds on the rock-solid Zemax platform delivering added power and flexibility in how users solve design challenges. New features include:
The Largest Library of Light Source Models
Design with confidence using the largest library of measured light source models in the industry for unsurpassed accuracy of simulation results. More than 600 Radiant Source Models are available, which give accurate near-field and far-field lighting data plus alignment images, in addition to an IES source and luminaire library.
PartLink™ for SolidWorks and Autodesk Inventor 2013
PartLink™ speeds the design process. Dynamically modify SolidWorks and Autodesk Inventor 2013 part files from within the Zemax 12 environment. Eliminate the extra steps associated with importing and exporting.
AssemblyLink™ for SolidWorks and Autodesk Inventor 2013
Reduce costs with virtual prototyping. AssemblyLink enables users to work with native CAD assembly files to assign optical properties and perform analysis directly in the Zemax 12 environment.
Zemax Part Designer
Quickly create and optimize simple to complex parts directly in Zemax 12 with this full-function CAD module. Features include sketch editor, splines, sweeps, extrudes, custom colors and fully parametric part geometry for design flexibility.
Visual Optimizer
Analyze up to eight parameters at the same time. Micro-control of sliders enables fast interactive feedback of critical design factors.
Zemax 12 Release 2 is available in IE, EE and SE editions allowing users to purchase the feature set that best matches their needs. The IE Edition is the flagship of the product line offering the complete toolset for optical and illumination design. Zemax 12 runs on Windows PCs with 32-bit or 64-bit architecture. For complete details, see: RadiantZemax.com/Zemax.
Ultimate Value
This newest release combines new breakthrough features, rock-solid reliability and ease of use. It delivers fully-integrated optical and illumination design capabilities – all in one box. Backed by comprehensive support and no-surprise licensing, it has the lowest upfront cost and lowest total cost of ownership. Zemax 12 Release 2 is the ultimate value in design software.
About Radiant Zemax
World leaders in optics, lighting and display devices turn to Radiant Zemax for high value design, test and measurement systems that reduce costs, lower risk and shorten time-to-innovation. Radiant Zemax product lines include Zemax optical and illumination design software, TrueTest automated optical inspection for display systems and ProMetric imaging colorimeters, photometers and light source measurement systems. Headquartered in Redmond, Washington, Radiant Zemax delivers optics, light and color technology leadership, service and support to clients around the world. Learn more at: www.RadiantZemax.com
Contact
Lisa Salvatore Brave New Markets +1 (410) 902-0801, ext. 315
E-mail:sales@radiantzemax.com
Web Site:www.radiantzemax.com/zemax