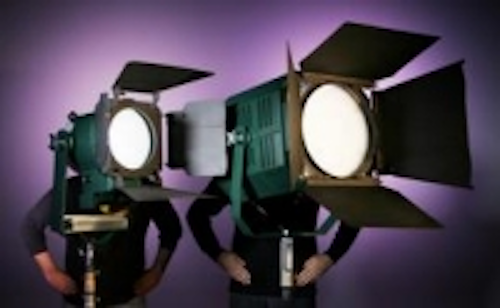 Date Announced: 23 Jul 2012
AAdyn Technology™ has broken new ground with powerful, controllable, flicker free, efficient LED lighting, developed, engineered & assembled in the USA. The revolutionary ECO & JAB LED lights provide single source lighting with low power consumption to supplement the hot, power hungry lights of the past and eliminate lamp changes. AAdynTech warrantees the LEDs for 60,000 hours, that's 6.8 years @ 24 hours per day. This can save up to 90% in lighting costs. AAdynTech lights run cool to the touch and save on air conditioning costs.
The power output of both series of AAdyn lights is unsurpassed for the amount of energy used. ECO Punch Plus outputs over 4,000 foot-candles @ 10 feet while consuming less than 5 amps of power; stronger than a 2,500 watt HMI. JAB Daylight consumes 1.78 amps of power while outputting 1,864 foot-candles @ 10 feet; stronger than a 575 watt fixture. This light will also run for 1.5 hours on a single 30Vdc battery. All AAdyn lights provide illumination with a very even field of light, adjustable from narrow to medium to wide with quick change lenses.
The beautiful, warm look of Tungsten can be achieved by using long lasting gels on the high output daylight fixtures or, select AAdyn's Tungsten LED fixtures with a high CRI of 91+. AAdyn also offers the JAB Variable fixture. With this powerful light, color temperature can be adjusted in small increments from 3,000 Kelvin to 6,000 Kelvin.
For television, stage & location lighting, think of replacing 4 - 2,500 watt HMI's with 4 - ECO Punch Plus LED lights running on a single 20Amp circuit with the ability to control illumination from 0 to over 4,000 f/c @ 10 feet, without scrims and with no color shift. Think of replacing 400 & 575 watt lights with the more powerful JAB Daylight; 11 of these lights can run on a single 20Amp circuit. Tungsten color temperature is available for both of these lights, ECO Tungsten & JAB Tungsten, as well as frequency adjustable strobe and lightning effects. All AAdyn lights are fitted with universal power supplies that operate from 100 to 277 Vac. All AAdyn lights can be dimmed with no flicker, no change in color temperature and can be controlled via DMX, AAdyn's proprietary User Interface or a simple on/off light switch.
Because of the low power consumption, high output and American built toughness, AAdynTech's ECO Punch Plus and Jab Daylight fixtures were recently, and successfully, bounced around on New York City streets for the feature film, The Secret Life of Walter Mitty, and the television series, White Collar.
AAdynTech's specialty lights include the ECO Bullet and JAB Bullet that are designed to be flicker free up to 100,000 frames per second. ECO Mega Bullet will operate at speeds up to 1,000,000 frames per second, that's correct, 1 Million fps. The JAB Hurricane, set for December 2012 release, has an outdoor weatherproof rating of IP66.
Please visit www.aadyntech.com for more information
Contact
Walter Lefler
E-mail:broitman@aadyntech.com
Web Site:www.aadyntech.com