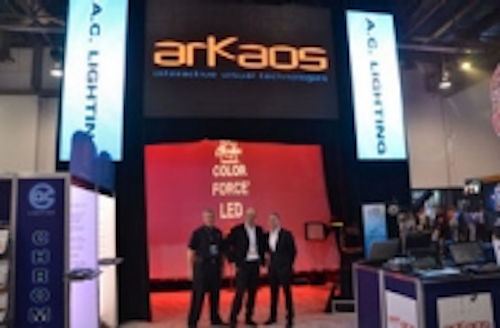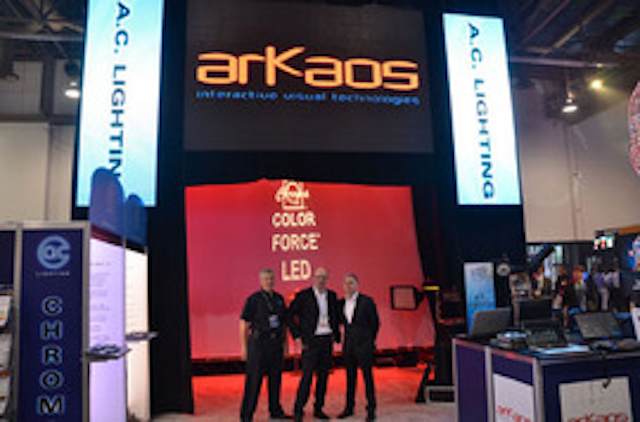 Date Announced: 12 Jul 2012
A.C. Lighting Inc. has been appointed as the exclusive North American distributor for the ArKaos range of show and lighting media server solutions, recently unveiling the partnership and innovative product range on its stand at the InfoComm 2012 exhibition.
ArKaos is a leading provider of technology solutions designed for live productions wanting to integrate video, projection or LED control with their show's lighting.
A.C. Lighting Inc's track record supplying to lighting designers, consultants, dealers and rental companies in the theatre, education, AV and worship sectors made it the ideal partner to distribute the ArKaos portfolio, which is purpose-designed for these live entertainment markets.
The distributor provides customers in the USA, Mexico and Canada with access to the ArKaos range of intuitive and powerful media server software solutions. Products include MediaMaster Pro – ArKaos's revolutionary new video mapping software, which is capable of turning any powerful computer into a fully fledged media server – and MediaMaster Express - an affordable entry level option.
Jean Francois Canuel, MD for A.C. Lighting Inc. comments: "We are pleased to partner with ArKaos. We feel a tremendous synergy between the two companies and we think that the ArKaos technologies are a perfect match for our future strategies."
Fred Mikeska, V.P. of Sales & Marketing for the North American distributor comments: "We're excited to be taking products like MediaMaster Express and MediaMaster Pro to the market, which both provide great creativity for the control of lighting and video. We're also looking forward to the new series of ArKaos media servers, scheduled to debut at PLASA 2012 in September."
ArKaos' Business Development Manager, Agnes Wojewoda comments, "A.C Lighting Inc. has a strong presence in the North American market that will ensure we are represented at a much wider range of trade shows, broadening our reach, and making our products available to more customers. We are looking forward to a very positive working relationship."
A.C. Lighting Inc. will be presenting ArKaos products at the upcoming Worship Facilities Conference & Expo (WFX) in September and at LDI in October.
Photo caption (L-R) Fred Mikeska (A.C. Lighting Inc.); Marco Hinic, (ArKaos CEO); Jean Francois Canuel, (A.C. Lighting Inc.)
Contact
Louise Stickland +44 7831 329888 +44 1865 202679
E-mail:louise@loosplat.com
Web Site:www.aclighting.com