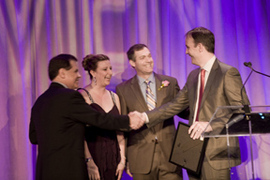 Date Announced: 11 Jul 2012
New York — The New York City Section of the Illuminating Engineering Society (IESNYC) announces the winners of the 2012 IESNYC Brilliance Award, IES Meritorious, and IESNYC Special Recognition Awards, recognizing dedicated service and outstanding contributions made by individual members to the NYC lighting community. Additionally, the incoming 2012-2013 IESNYC Board of Managers has been announced.
IES Meritorious Service Award — Brad Telias, Enterprise Lighting Sales
In recognition of outstanding service of 15 years or more to the Section that has significantly furthered the purpose of the Society continuously in various programs and activities
Brad Telias has been a longstanding member of the NYC Section Board of Managers, and during his 15+ years serving the Section has been instrumental in writing, preparing, and reviewing contracts with many organizations, including contracts with AIANY and the Museum of Arts & Design as well as those for a number of Section events.
IESNYC Brilliance Award — Jack Bailey, ONELUX Studio
In recognition of dedication and contribution to the New York City lighting community
Jack Bailey served on Mayor Bloomberg's Green Codes Task Force Lighting and Daylight Technical Committee, and is responsible for drafting the lighting requirements for the International Construction Code's new International Green Construction Code. He chairs the lighting workgroup of the International Construction Code's Sustainable Building Technology Committee, as well as the New York regional task force of the IALD's Energy and Sustainability Committee. Bailey also sits on the Technical Advisory Group of Green Light New York.
IESNYC Special Recognition Award — Gary Dulanski, The Dulanski Group
In special recognition of dedication and service to the IES New York City Section
Gary Dulanski was New York City Section President from 1995 – 1997, and since then has been a wonderful supporter of the Section's activities and events. Dulanski is also the well-known genial host for the annual Lumen Awards, serving as its master of ceremonies for the past 19 years. In 2004 he received the IES Meritorious Award, and in 1999 was honored with the IES Section Service Award.
IESNYC Special Recognition Award — Anna Kim, Enterprise Lighting Sales
In special recognition of dedication and service to the IES New York City Section
Anna Kim's services have been invaluable to our Section. Serving officially as the IESNYC bookkeeper, she assists both the accountant and Section secretary, as well as processes all the information for the thesis prizes. Kim is also provides key assistance to the Lumen Committee and plays a major role in the production of the Lumen Journal.
The IES New York City Section 2012-2013 Board of Managers:
President: Charles Cameron, Studio C Squared Inc.
Vice President: Tim Milton, USAI Lighting
Secretary: Brian Belluomini, Lighting Consultant
Treasurer: Zengwei Fu, SBLD Studio
Mike Barr, Lutron Electronics
Megan Carroll, Xicato
Philip Cialdella, Light Abilities
Frank Conti, Enterprise Lighting Sales
Karen Duffy, B-K Lighting / Teka Illumination
Peter Jacobson, Con Edison of New York
Caleb McKenzie, T. Kondos Associates
Daniel Rogers, ICF International
Randy Sabedra, RS Lighting Design
Brian Smith, ICRAVE
Meg Smith, Philips Lighting
###
About IESNYC
The NYC Section (IESNYC) of the Illuminating Engineering Society is a volunteer professional membership organization comprised of individuals who share a mutual appreciation for, and fascination with, all things lighting. The roster includes lighting designers, architects, engineers, consultants, lighting manufacturers, lighting representatives, electrical distributors and allied professionals. All are dedicated to promoting both the art and science of illumination not only to members, but also to other professional organizations, the industry, and the public. This is done through inspirational events, informative programs and educational series, as well as social networking opportunities.
Contact
Catherine Bontempo 516-965-1195
E-mail:cmbontempo@comcast.net
Web Site:www.iesnyc.org