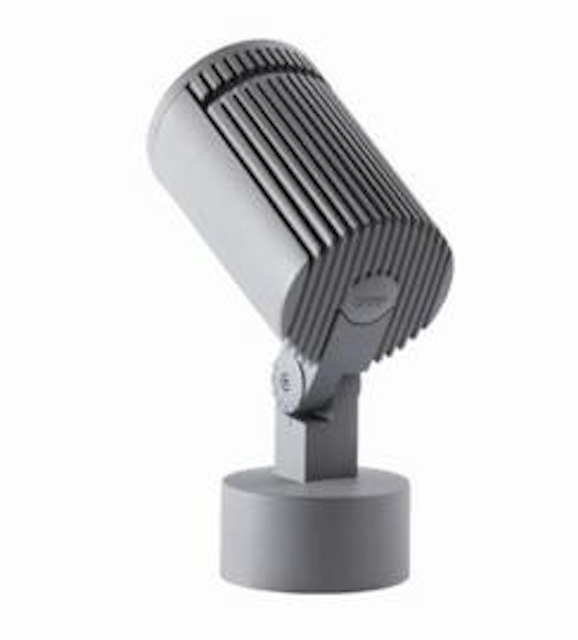 Date Announced: 05 Jul 2012
The outdoor spotlight MINI SHOT LEDS,designed with LAMP's LED technology know-how, is the perfect solution for monument accent lighting and is adapted to the requirements both of private and public lighting: maximum efficiency and minimum maintenance.
It is made of texturised grey lacquered aluminium injection. Endowed with a tempered glass lens, stainless steel screwsand silicone joints for an IP65. It has built-in equipment, replaceable, high-performance LED module and passive cooling with with an injected aluminium dissipator for optimum thermal management (50,000 working hours).
There are models with luminous flows of 1,000 and 2,000 lm with neutral white or warm white monocolour LED and available with Spot and Medium Flood optics.
As accessories it is worth mentioning its anti-glare visor and the possibility of choosing other types of optics such as Super Spot, Wide Flood and Elliptical. What's more, the version with support for accessories allows it to be installed in columns, sticks or wall arms.
MINI SHOT LEDS forms part of the family of outdoor SHOT spotlights which consists of 6 models:
- SHOT 530
- SHOT 380
- SHOT 290
- SHOT LEDS
- MINI SHOT LEDS
- SHOT 190
Thanks to its contemporary look, its sturdy design and its unbeatable technical performance, it is ideal for lighting up gardens, squares, monuments, roundabouts and façades.
With LAMP, LED quality and high technology (5-year warranty) are available to the most demanding professionals.
LAMP is an architectonic technical lighting company, specialised in, advising on and designing efficient solutions adaptable to any
project by way of innovative and competitive products and services. Founded 40 years ago, it has its central offices in Terrassa
(Barcelona) in a space of over 15,000m2. Its R+D+i Department, along with the Project Department and Laboratory, act as engines
for creation and continuous innovation, providing an all-round, personalised service for each project. LAMP has a proximity policy
towards its clients and to this end it has a wide range of branches throughout Spanish territory. Internationally, LAMP wishes to
maintain this spirit of closeness and this is why it various production-commercial branches and partners worldwide.
Contact
Carla Kissler +34 93 736 68 00
E-mail:carla_kissler@lamp.es
Web Site:www.lamp.es/en/