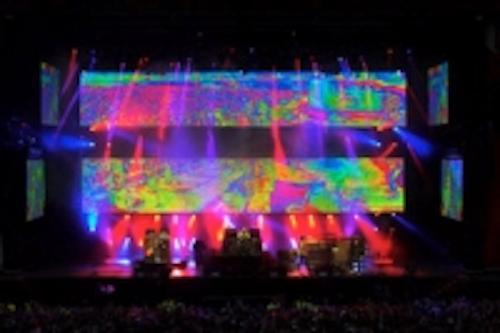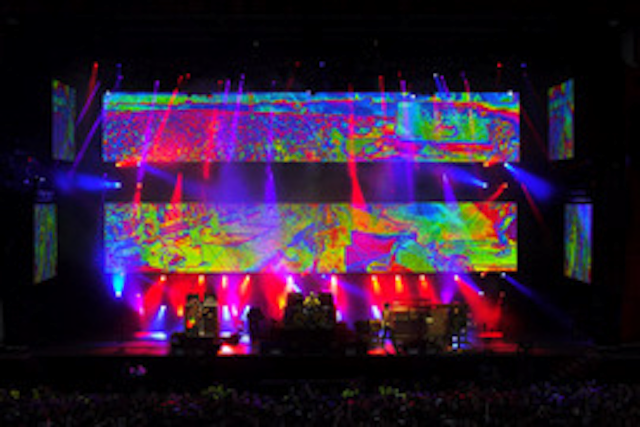 Date Announced: 13 Jul 2012
XL Video supplied 400 square metres of its latest Pixled F-12 LED screen – configured as 12 screens, ten of which moved – plus cameras, PPU and crew for the Stone Roses seminal homecoming shows at Manchester's Heaton Park.
The three sold out nights saw 78,000 people a night witness the most talked about and hotly anticipated band reunion of the century .. and the pressure was on for all involved to contribute to one of the most memorable shows of the year
The amazing F-12 screen – currently available only from XL Video – was specified by show director Paul Normandale, who has also been using it on Coldplay's current world tour
A nine camera IMAG system - mixed by Phil Woodhead - was at the essence of the visual look and feel for these concerts for a number of reasons. It reinforced the iconic moment of the band playing live in their original line up again after 22 years, making a massive statement in popular music history and ensured that the huge crowd no matter how far away could all grab a slice of the action!
Normandale and Woodhead have worked together on the Kings of Leon for some time, and Normandale knew that Woodhead's trademark intelligent, raw mixing aesthetic would be ideal.
The band, played on a bare stage apart from a drum riser - no frills, no dressing, no nonsense - just simply banging out some great sounds!
"As you can see we still got it!!!" yelled Ian Brown after a few songs to a tumultuous crowd reaction. The vibe hit the nail on the head!
The video playback content was derived from various original artwork and paintings by guitarist John Squire, which Normandale commissioned video artist / producer Judy Jacob to animate.
The video looks were all based on this unique material which was stored on a Catalyst media server system and output to the screens, together with six feeds from Woodhead's camera mix by Glen Johnson.
The key to the distinct blurring of the content and IMAG was the application of Video Dust, a new highly flexible DVE software optimised for iPad front end control and intuitive use, which has been developed by Woodhead and is marketed through his company, Thundering Jacks.
The 12 screens dominated the wide vista of the performance area. Upstage was a rear letterbox strip of F-12 measuring 30 tiles wide by 5 high. Side stage left and right were two screens each, 10 wide by 5 panels high, and on the onstage edges of the front wings were another two screens a side, 9 panels wide and 5 high.
All of these moved into a series of different positions throughout the show on a Kinesys system, offering up a dynamic palette of different looks.
At the very edges of the stage were two large portrait F-12 surfaces measuring 17 high by 11 wide.
Apart from providing maximum impact, one of the beauties of the screen set up was that the stark contrasty and largely monochromic IMAG images of the stage action could be showing on the end screens, while more content driven mixes, merges and subtleties could be playing out across the rest.
Once again, the phenomenally bright F-12 provided an ideal surface and compliment to the stage and natural lighting elements of the show, 60% of which was performed in daylight.
The IMAG sources included three additional Sony HXC-100 HD cameras for Heaton Park including a pole-cam, which were added to the one touring with the band's festival rig, plus three Bradley Cam-Ball 2 robo cams, which were operated by Woodhead. Two mini-cams (already on the tour), bringing the total of camera channels to nine for Heaton Park.
XL Video supplied three of their most experienced regular freelance camera operators to Woodhead's great delight – Larne Poland, Robyn Tearle and Steve Jones - who worked with Al Wright, the FOH camera op for the festival tour.
Woodhead used a standard XL Video Kayak mixer switcher and applied all the Video Dust treatments before sending his feeds into the Catalyst.
XL's crew of five for Heaton Park was led by chief Stuart Heaney, where they joined the festival touring crew of three. The get in was Monday morning for the first show on Friday, with everything going "Extremely smoothly", according to Heaney, the main challenge being the sheer scale and quantities of screen involved.
XL's Project manager Jo Beirne comments; "Many of us at XL have fond memories of The Stone Roses back in the day, and we are delighted to have contributed visually, both to these shows, and their current on-going festival run''.
Contact
Louise Stickland +44 (0)1865 202679 +44 (0)7831 329888
E-mail:louise@loosplat.com
Web Site:www.xlvideo.tv