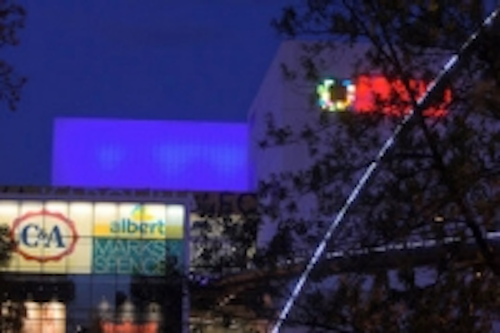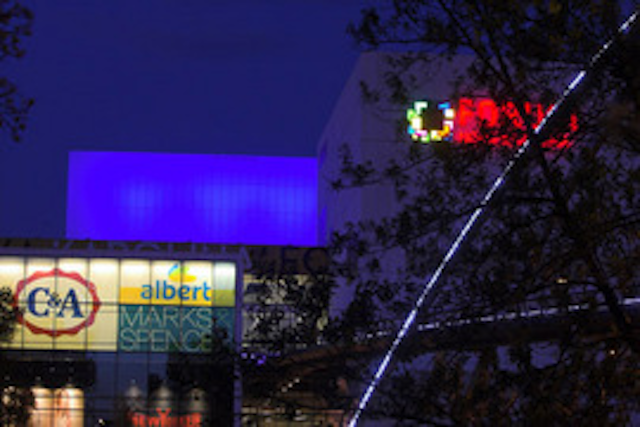 Date Announced: 03 Jul 2012
Anolis LED fixtures have been specified and installed to illuminate both interior and exterior of the impressive central feature at the Nová Karolina Shopping Centre in Ostrava.
The new 100 million euro development in the Czech Republic's third largest city is one of the largest inner-city development projects in the country and part of one of central Europe's largest urban revitalisations .
The spankingly smart and spacious multi-level environment was designed by architect Har Hollands from Dutch company T+T Design, working with Czech architects K4 from Brno.
It includes hundreds of high profile premium brand and designer stores, quality food and drink outlets, a multi-screen cinema complex and sports and leisure facilities.
The frustum (truncated triangle) shaped centrepiece ('Komolŷ Jehlan' in Czech) creates a sense of drama and spectacle right at the heart of the busy space.
Hollands proposed an initial lighting design for the 36.5 by 35 metre conical shape which has a height of 22 metres, and for specification of the right fixtures, main construction contractor Gemo recommended Anolis.
Anolis' Brand manager Petr Kolmačka embraced the project with characteristic enthusiasm, producing several options - all of them energy efficient - to achieve the dynamic effect that Hollands wanted.
The requirement was for a fixture bright enough to register during the day, and the entire installation also had to be energy efficient and 'green'.
Mikolaš Parma, head of the Anolis Research Lab at their HQ in Valasske Mezirici, produced detailed visualizations and data for both interior and exterior systems, complete with customized elements to get the exact effects and coverage from the available positions for the lights.
The interior is illuminated with 32 pieces of Anolis ArcPad 94 RGBW EPS, a special fixture with separate (rather than integral) power supply. These are positioned on four ledges at ceiling height around the base of the space, and the beams focused to cross one another and wash up the space, giving a beautiful, smooth even colouration right up the fascias, with eight ArcPad 94s per side.
With all 32 ArcPad 94s on at full, they use 8.5 kW of power, however the standard power consumption (for 97% of the running time) is just 4kW for all fixtures on – which is definitely carbon conscious!
Another stipulation was that the lighting scheme should generate minimal heat and not increase the need for extra air conditioning. The Anolis LED scheme once again ticked that box.
Added to that is the long lifetime and the minimal maintenance required, which was essential as the fixtures are difficult to access.
They also had to be tightly focused to allow the bottom sections on all four sides of the cone to be used for a projection show that runs all day.
Two standard colours – blue and white – have been programmed initially, representing the corporate colours of the Czech owners / managing company MULTI Development.
Exterior
Outside, 16 ArcPad Xtreme RGBW units with custom optics (half fitted with 23 degree optics and the other half with asymmetric 23-6 degree lenses.) are lighting the exterior of the centrepiece on all four sides – so it can be seen from several kilometres away.
They are positioned on the roof of the complex, approximately 12 metres away, and do an amazing job, also programmed to do five minute alternations of the same blue and white sequence of colours.
These colour combinations are not the only ones. Combinations of 16.5 million colours can be selected and the time sequences can also be adjusted if needed.
Both inside and out installations have their own control PC-based Robe CyberCue architectural system controls, which are run in stand-alone mode. The exterior scheme is triggered by a light sensitive sensor when it becomes dark, and the interior lighting switches on when the building opens to the public each day.
Petr Kolmačka remarks, "I am extremely proud to be involved in this project. Anolis is a Czech brand seen in some of the highest profile installations worldwide, and so it is very special to see it in action on its home territory. It's also good that proper attention is being given to the importance of lighting in Ostrava's on-going redevelopment plans".
Contact
Louise Stickland +44 (0)1865 202679 +44 (0)7831 329888
E-mail:louise@loosplat.com
Web Site:www.anolis.eu