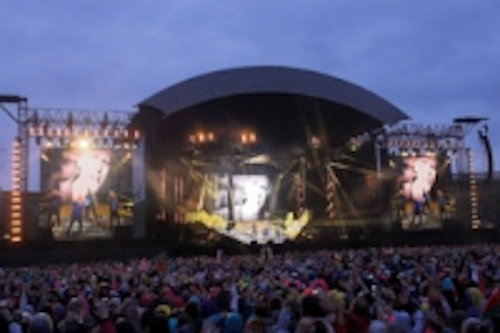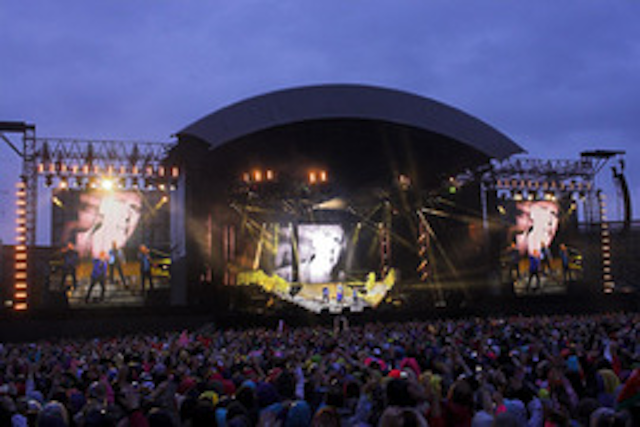 Date Announced: 04 Jul 2012
XL Video continues to supply Coldplay's phenomenal Mylo Xyloto (MX) world tour with LED screens, cameras / HD PPU, media servers and control plus crew, which has stepped up to play stadiums shows in the UK and Europe.
The expanded design features XL Video's brand new Pixled F-12 LED screen product. XL Video is the first company in the UK to take delivery of this impressively bright and clear surface.
The screen layout for this leg of the tour - developed by production and lighting designer Paul Normandale - features five striking circular F-12 surfaces onstage. The central one measures 9 metres in diameter and is flanked by two at 8 metres and then two at 10 metres on the outside. The two 8 metre screens are slightly angled to maximise site lines for the audience seated on the sides of the stadiums.
The live camera mix is cut by Andy Bramley, and the media server system is designed, programmed and operated by Ben Miles. They work closely on the show's very memorable aesthetics with Normandale, Coldplay's creative director Phil Harvey and Misty Buckley who styled the lively graffiti themed set decoration with the help of graffiti artist Paris.
Coldplay continue to wow the crowds with their incendiary performances and stunning visuals that have won much critical acclaim.
The screens contain over 1140 Pixled F-12 tiles, flown as squares from special screen support towers supplied by StageCo and masked with circular set fascias constructed by Tait Technologies - splattered with graffiti.
XL Video worked closely with Tait Technologies to design a custom touring system for the F-12 screens to make rigging straightforward and safe. This also includes sets of dollies in which the screen panels are stored for transit, giving full portability and expedient truck packing.
XL Video is supplying seven Sony HXC-100 cameras in total. Two are fitted with long lenses, stationed at the FOH mixer position and on the base of the house left follow spot tower; two hand-helds are at the front-of-stage, one on a tripod; two cover either side of the central ramp coming offstage into the audience and the final one is a hand-held onstage.
Bramley has worked with Coldplay since 2005, and together they have honed the look and feel of the live IMAG visuals into a fine art juxtaposing detail and spontaneity.
He is using a GV Kayak 2.5 M/E mixer / switcher with Evertz router and Zander Multiviewer and also running Thundering Jack's Video Dust effects software on two Macs. The software has been developed by Stuart Whites and Phil Woodhead, themselves both renowned video directors.
Ben Miles is running two active Catalyst media servers via a grandMA lite console each with a hot backup and fitted with a tripleHead2Go, giving three outputs per device – allowing all the screens to receive independent feeds.
He takes in four of Bramley's seven camera feeds plus his programme TX as an HD feed, and 90 per cent of the show is full HD with 720 pixels output to each screen.
A number of effects, including flips, solarisation, monochrome and the frame drops which bring a filmic quality to the images in key songs, together with the masking and all routing to screen, is done within the Catalyst system.
All Catalyst signal / data distribution is run via an XL Video custom DVI fibre system.
XL's crew of eight are crew chiefed by the unflappable John Wynne. They include three top LED techs from Belgium – Freddie Debaille, Peter Laleman and Reinder van der Steene – who are joined by Matt Gourd, engineer Ed Jarman and three camera specialists – Phil Johnstone, Sacha Moore and Darren Montague.
The tour is project managed for XL by Phil Mercer and Tracey Donnelly. Mercer comments, "We are thoroughly enjoying playing our part in XL's continuing long association with Coldplay, particularly enjoying the challenges, both technical and logistical, of keeping them visually at the very top of their game."
Contact
Louise Stickland +44 (0)1865 202679 +44 (0)7831 329888
E-mail:louise@loosplat.com
Web Site:www.xlvideo.tv