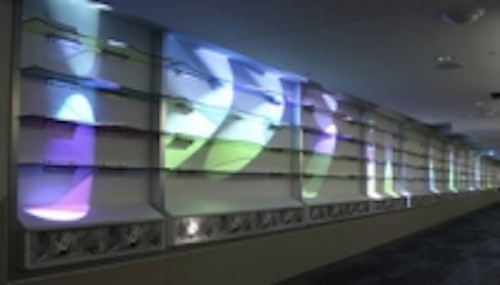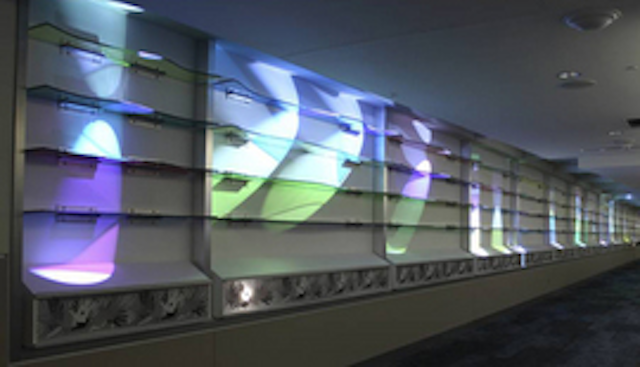 Date Announced: 13 Jul 2012
Atlanta, Ga — The Hartsfield-Jackson Atlanta International Airport's new international terminal, the Maynard H. Jackson Jr. International Terminal, features an art installation entitled "Light Waves: Atlanta", a large-scale art installation by Christopher Janney, artistic director for PhenomenArts, Inc. The piece, part of the Airport Art Program, is one of five works for the new terminal.
The piece, described by Janney as "an abstraction of Georgia in color and sound", features 32 CHAUVET® Intimidator™ Scan LED 300 scanners, 68 horizontal panes of colored glass—stacked in 17 sections with four panes in each section—along a 160-foot hallway. As the light from the recessed fixtures in the ceiling passes over the glass, it reflects and refracts creating a continuously changing pattern of color on the wall.
Janney, who is a trained architect and jazz musician, composed a score of environmental accents—indigenous sounds of natural Georgia environments—that accompany this "light ballet." Additionally, the hallway features a series of interactive "touch panels" that are activated by a passerby triggering a soft tone. The light and sound work together creating an immersive experience for travelers making them part of the artwork.
"After extensive research for 'Light Waves: Atlanta'," said Janney. "The CHAUVET® Intimidator™ Scan LED 300, as a single-source LED with a hard edge that penetrates through four panes of glass, was hands-down the best fixture on the market."
"LIGHT WAVES: ATLANTA" Atlanta International Airport
©2012 PhenomenArts, Inc. C. Janney, Artistic Director
Photo: M Jensen
Contact
800.762.1084
E-mail:sales@chauvetlighting.com
Web Site:www.chauvetpro.com