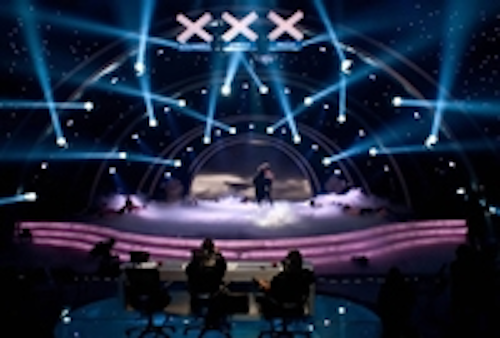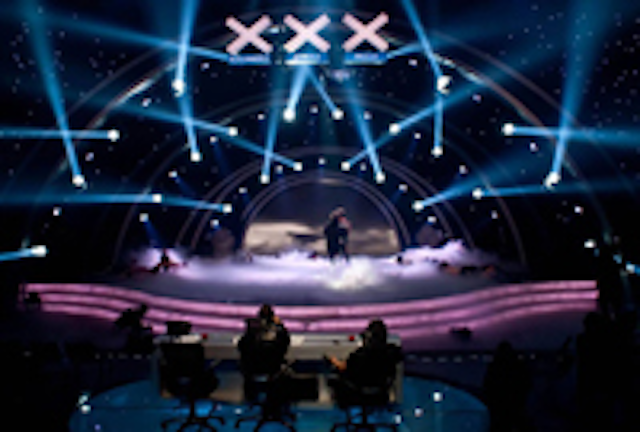 Date Announced: 13 Jul 2012
BOGOTÁ, Colombia— CHAUVET® Professional fixtures completed the simple yet dramatic design for the reality TV show "Colombia Tiene Talento" ["Colombia Has Talent"], which ran this year from February until the end of May, on RCN Televisión. Lighting Designer Andres Chamorro, owner of Andres Chamorro Iluminacion, selected a total of 81 LED-fitted, flicker-free fixtures from CHAUVET® Professional.
The focus of his design was the extensive background—with a surface coverage of 6,453 square feet —made of 25 SparkliteLED™ drapes, connected at the back of the stage, on its sides, ceiling, and into the audience for a genuine night sky effect. SparkliteLED™ measures about 20 feet by 13 feet (0.05 x 6 x 4 m), and each drape holds 128 LEDs fitted into eight distinct controllable zones. "I liked using the SparkliteLED™ Drape from CHAUVET® in this TV show and wanted to create an effect of deep sky, which came out very elegant."
Fifty COLORado™ 1-Tri Tour wash lights were also part of the central design, placed in a semi-circular pattern mirroring the lines of wide arches of light built on stage. Chamorro used the same fixtures as house lights above the audience. Chosen for their cool white spectrum, six COLORado™ Zoom CW Tour static wash lights surrounded the judges' table, placed on a podium facing the stage.
Gear list:
50 x COLORado™ 1-Tri Tour
25 x SparkliteLED™ Drape
6 x COLORado™ Zoom CW Tour
Contact
800.762.1084
E-mail:sales@chauvetlighting.com
Web Site:www.chauvetpro.com