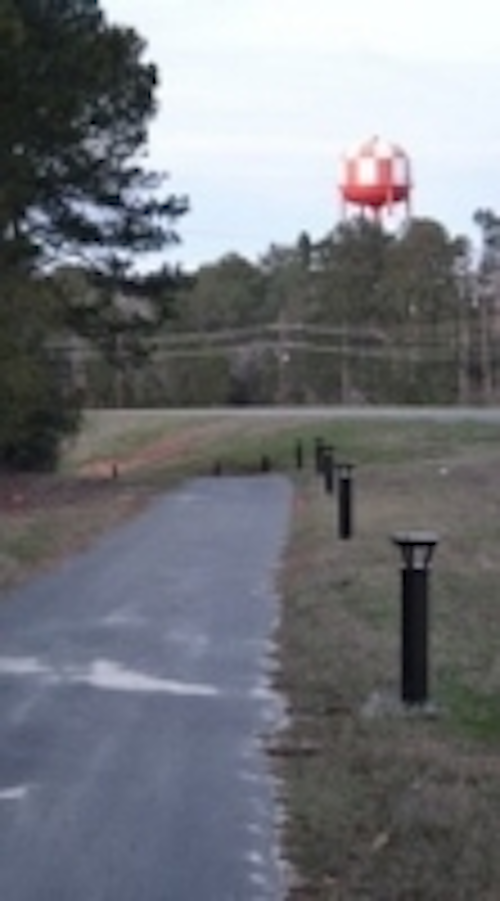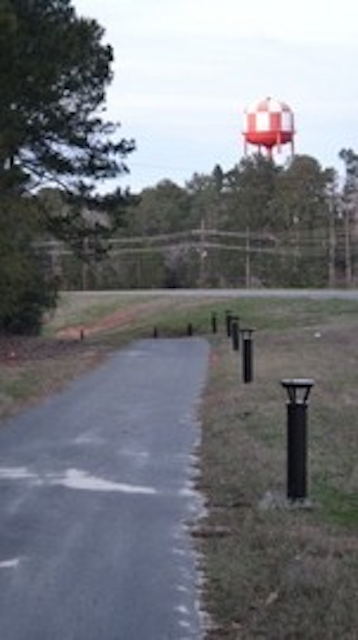 Date Announced: 12 Jul 2012
U.S. Military selected PLB Series Solar LED Bollard for quality, performance and ease of installation
VICTORIA, B.C. First Light Technologies Ltd., the leading designer of architectural-quality, integrated solar lighting products for pedestrian applications, is pleased to announce a trial installation of 182 of its new PLB Series Solar LED Bollards at a US Military Facility in the southern United States.
"We are pleased to see the immediate market uptake of our PLB Series Solar LED Bollard continue with the U.S. Military now on board as a client," said Justin Taverna, First Light Technologies Managing Director and Co-founder.
"We chose the PLB series bollard because of the high quality construction, lighting performance and ease of installation. An added benefit was the responsive customer service from the First Light team. We plan on using more First Light products in the future on existing running trails," said Jacob Lantz, the Project Manager.
The 182 lights will illuminate 1.25 miles of jogging trails and highlight the location of bridges on a golf course. The sites required effective low-level illumination but did not have access to the grid.
The facility had earlier tried a solar power system with wired bollards but had to remove them due to poor performance and installation difficulties, so this time wished to avoid the expense and site disruption of trenching and wiring between bollards.
The PLB's completely self-contained design, combined with robust, high quality construction and unequalled solar power performance made it the perfect choice. Contractors found the installation was simple and were able to complete as many as 60 per day. The facility officials reported that even after some of the golf course bridges were flooded after installation, the lights continued to perform reliably.
Because the PLB lights are solar powered they will cut down on operational costs and greenhouse gas emissions, furthering the facility's mission to provide top quality services and facilities while maintaining operational efficiency and environmental sustainability.
The facility is undergoing one of its biggest construction booms ever with over $300 million in new construction and renovation projects in support of its Transformation over the next several years.
"This installation further fulfills our company commitment to bring simple, effective self-contained solar-powered products for the $13 billion outdoor and architectural lighting market*," said Bourquin.
*According to a McKinsey & Company 2011 report, the $13 billion (2010) market for outdoor and architectural lighting will grow to $18 billion by 2016, while LED lighting is expected to outperform the general lighting market with a CAGR of 34% from 2010 to 2016.
About the PLB Series Solar Powered Bollard
The PLB Series Solar LED Bollard, released spring 2012, is a stand-alone solar-powered light for low-level architectural and commercial pathway and landscape lighting. The PLB is cost-competitive with traditional hardwired bollards while offering several advantages:
· Low installed cost and minimal site impact with no trenching, cabling or wiring.
· Minimal ongoing costs with no electrical bills or bulbs to change.
· Immunity from power outages.
· A visibly green statement with no recurring carbon emissions.
· Built-in Energy Management System (EMS) with self-learning, adaptive capabilities (patent pending) to operate reliably under any solar conditions.
Intelligent, efficient and cost-effective, the First Light PLB is the easiest solar-powered bollard to specify, install and use on the market today.
About First Light Technologies
First Light Technologies is a specialized designer and manufacturer of architectural-quality, integrated solar-powered LED lighting products for pedestrian applications. Founded on extensive solar power system and LED lighting experience, First Light strives to make solar lighting effective and simple. First Light solar lighting products are intelligent, adaptive, efficient and robust. Designed to perform around the world, they are a cost-effective and sustainable alternative. First Light Technologies is a private held company based in Victoria, British Columbia, Canada. For more information call +1.250.590.5774, follow on Twitter @FirstLightTech or visit www.firstlighttechnologies.com
Contact
David Davies HarbourWerks Strategies +1.250.382.4332
E-mail:ddavies@harbourwerks.com
Web Site:www.firstlighttechnologies.com