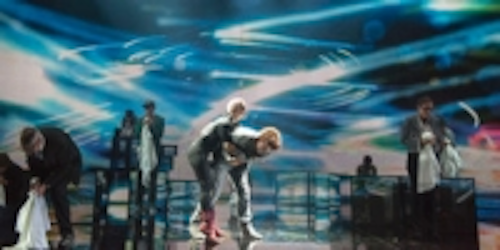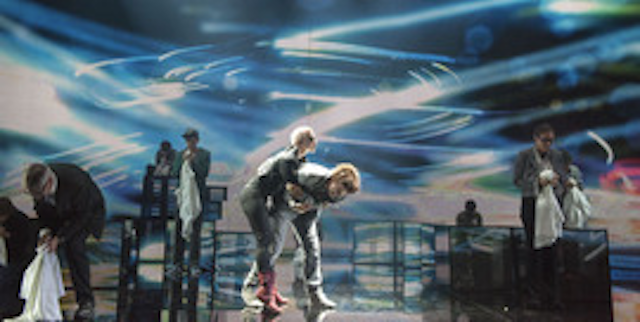 Date Announced: 15 Oct 2012
Lighting and visuals specialist Luc Peumans of Belgium based design practice Painting With Light, has created the visual concept and designed video and lighting for the highly anticipated new theatre production of 'Ben X'.
The ground-breaking show is based on the award-winning book and 2007 movie directed by Nic Balthazar (also author of the book) about a boy with autism who escapes into a fantasy computer game world to escape bullying. Directed by Frank van Laecke, it opened on September 13th at the Stadsschouwburg Theatre in Antwerp.
Peumans was asked to work on the show by producers Musical van Vlaanderen (Musicals of Flanders), and was delighted to be involved with helping create such a cutting-edge, intricate and highly emotive stage show …. With the additional challenge of it having to be ultimately accessible.
The visual concept encompasses fast camera-work, massive projections and dramatic lighting fused with beautifully composed music by Dirk Brossé – a combination drawing everyone in to Ben's worlds.
Upstage is a large 10 mm pitch semi-transparent curved LED video screen – approximately 25 metres wide and seven high - which is at the core of Peumans' design. This is used as a dramatic vehicle to traverse between the two very different environments of reality and fantasy which are juxtaposed and flipped between.
The screen gives full HD rendition at 2084 by 704 pixels, and has been specially developed for leading Belgian rental company Phlippo Showlight, who are supplying audio, video and lighting equipment to the production.
Peumans brought video artist Frank De Wulf onboard to work as part of the Painting With Light team and create video content to his brief which forms the backbone of the show.
The screen slides opens in the middle for entrances and exits and in the foreground are 26 scenic cubes scattered around, fronted with the same 10 mm LED screen material.
Peumans also chose the screen so it could be used as a mask for actors who can appear ghost-like behind it …. out of nowhere. Lighting effects can also be shone through it for more drama making it a real multi-layered canvass.
Video playback is run using the latest Coolux Pandora's Box pro Quad v5.1media server technology, also specified by Peumans as the best option for the show. All the content has been created to precisely fit the screen areas.
Using Coolux's Widget Designer App, a bespoke show control interface has been devised so all video cues can be run by the stage manager using a touch- pad, together with the surround audio multi-tracks which are also processed inside the media server.
The Pandora's Box was programmed by Painting With Light's Jo Vaes.
Peumans has treated the lighting, video and set as one integrated medium.
Lighting is stark, shadowy, contrasty and monochrome much of the time – a dash of Noir styling - with some sumptuous bursts of red, as the action switches between two psychologically antagonistic states of mind with intense moods swings.
The audience are drawn into the action joining Ben's unpredictable, complex emotional journey.
The high shine black gloss floor was chosen for its reflective effects for both the lighting and video treatments, and the angles and focuses of the lighting fixtures themselves are also crucial, and were precisely calculated and plotted to avoid unwanted spillage.
In terms of equipment it's a reasonable but not massively large lighting rig, used intelligently and appropriately as Peumans skilfully weaves together the synergies of music, digital art and technology in an original 'crossover' approach.
The main moving lights are seven Vari*Lite 3500 Washes, 36 x V*L3500Q Spots and 19 Robe ROBIN 600 LEDWashes. Peumans also designed a theatrical 'welding' effect using a special LED configuration used in one of the scenes (this was manufactured by Lux Lumen).
The conventionals include 30 single-cell Molefeys, PAR CP60 floor lights 12 Showtec active Sunstrips, a Rosco LitePad HO and a Quartscolour Mizar fresnel - and all of this is run from a grandMA2 full size console programmed by Jimmy Stas and Niels Huybrechts.
Two Clay Paky Alpha Spot 1500s have been customised to run as manual operated follow spots but with intensity and beam parameters programmed in the desk.
Peumans concludes, "Ben X is not an old school musical. It is based on elements of surprise and is simultaneously provocative and engaging. The production and the story are both built around the latest media technology. While designing a show with a big screen is not so difficult, creating a very emotional story with it is something else. That was the challenge, and when I read the reviews I think we have succeeded. We had a great team to made this work and a crucial rehearsal period, when all had to be creative and flexible to deal with all the changes.
"This is also a special performance with great actors, the stage looks amazing and for our region it's definitely unique".
Contact
Louise Stickland +44 7831 329888 +44 1865 249744
E-mail:louise@loosplat.com
Web Site:www.paintingwithlight.be