Sheenly LED panel light won Excellent Product in Guangzhou International Lighting Exhibition
Oct 18th, 2012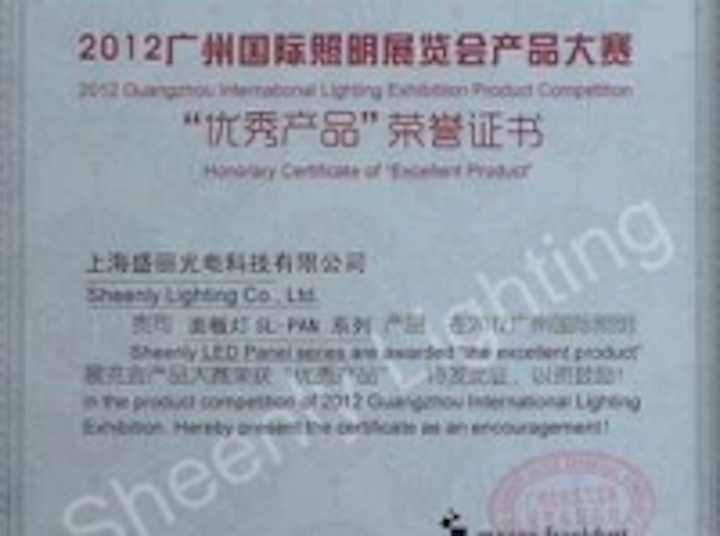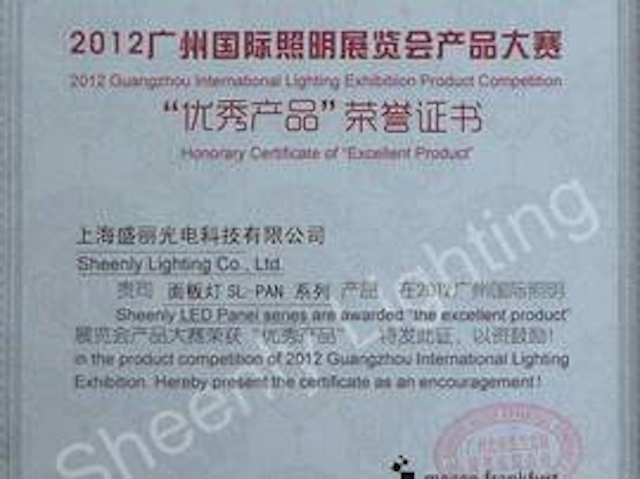 Date Announced: 18 Oct 2012
Sheenly LED panel light won the "Excellent Product" over 70,000 products from 1600 suppliers in the product competition of 2012 Guangzhou International Lighting Exhibition.
Guangzhou International Lighting Exhibition is recognized as Asia's largest and most comprehensive lighting event. The exhibition is firmly established as the preferred sourcing destination for thousands of architects, building planners, lighting retailers and wholesalers from around the world. Key players in the global lighting industry are attracted to the show by the vast range of lighting products, technologies and services ever assembled in an Asian destination.
LED panel light is one of Sheenly's most competitive products. Its excellent performance and unique ultra slim design combined with its stylish outline make it the undisputed winner of the honorable "Excellent Product".
By adopting continuous improvement programs, Sheenly never stops advancing LED technology, boosting LED performance level and designing products that are suitable for wide varieties of lighting applications. Having total commitment to quality and service, Sheenly is dedicated to build and maintain long term partnerships with each customer, and therefore make contributions to the environment by lighting up a new world.
Sheenly LED Panel Light adopts qualified super bright LED as light source, which are stable, long life and no UV & IR emission. The anodized aluminum frame is stylish and fashionable with everlasting color. It is powered by low voltage constant current driver, which is safety, energy saving and long life.
Sheenly LED Panel Light meets the general and decoration lighting environment such as: Office Lighting, Restaurants, Hotels, and Subway Stations, School and Hospital, Hallway & lobbies and Meeting Rooms.
Sheenly LED lightings' High-Tec and reliable quality together with it professional services has already been verified by Bayer, Carrefour, H&M, Puma, CITI, etc.
Besides, Sheenly LED Panel Lights are hot-selling in Germany, Australia, Britain, and USA where only high standard LEDs are accepted, and satisfy the local customers pretty well.
Contact
Jim Wang
E-mail:sales@sheenly.com
Web Site:www.sheenly.com