Leotek LED area luminaires illuminate Texas auto dealership
Oct 3rd, 2012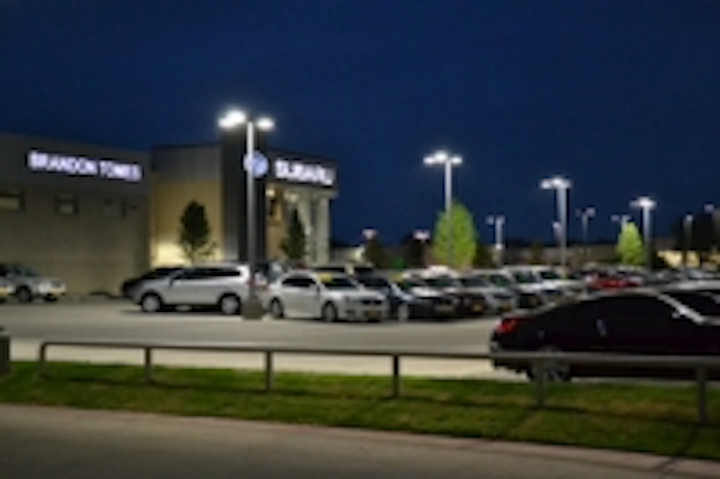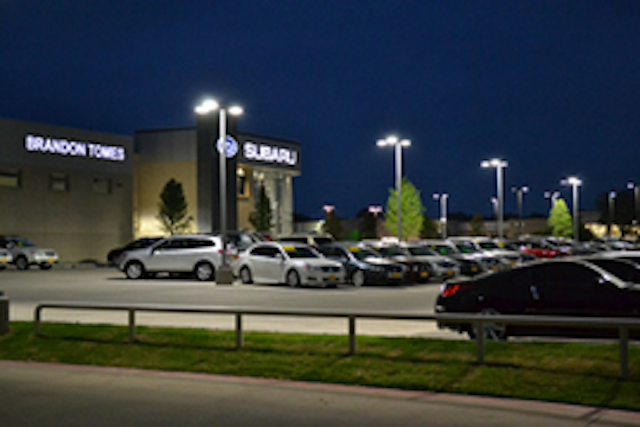 Date Announced: 03 Oct 2012
LED Lighting Shines Brightly in Security and Parking Lot Applications
Milpitas, CA – OLocated in McKinney, Texas, the newly constructed Brandon Tomes Subaru auto dealership recently opened with Leotek LED lighting installed, rather than traditional HID lighting, making it the first totally LED certified new construction auto dealership in Texas. As part of a national SUBARU program that evaluates Subaru facilities nationwide, Brandon Tomes Subaru was ranked in the Top 12 Eco-Friendly Subaru Dealerships in the U. S., and received a special award acknowledging their leadership in energy conservation and waste management.
For this project, a total of forty-four (44) GC2-120E Area Luminaires were installed. Twenty-two (22) luminaires installed along the property line also employed Leotek's "spill light shield" allowing the auto dealership to meet strict local code for reduced "light trespass" onto adjacent properties. Leotek LED products were chosen due to the dramatically reduced energy and maintenance costs, providing a much lower total cost of ownership.
During the months following the auto dealership's opening, Texas weather had a record number of days with temperatures in triple digits, heating vehicle interiors to the 130–140 degree range. According to Bob Tomes, "Due to the heat, many of our prospective customers do not venture out in the afternoon, but start arriving at 7:30 or 8:30 p.m. which often extends our operational hours until 11 p.m. However, as dusk fades to dark, the integrity of the colors of our vehicles remains true and constant under our new LED parking lot and security lights. There is no glare or "bounce" of the LED lighting off our vehicle display. Blue is viewed as a true blue, not distorted to turquoise. A red is a red, and not a dusty maroon . . . what customers see is the actual color of the vehicle." The enhanced illumination offers more environmentally friendly advantages than traditional lighting sources, and the more accurate color rendering also provides a heightened feeling of safety and security for visitors to the auto dealership. Bob notes, "The security lighting on our building is very well spaced, and the LEDs actually diffuse the light, spreading it over a much larger area than one would have believed or anticipated."
The "instant-on" feature of LEDs is also highly beneficial in temporary power outage situations, as LED lighting resumes to full brightness as soon as the power returns. Backed by an industry leading 5-year warranty, Leotek's long life LED products are virtually maintenance free, offering auto dealerships the lowest total cost of ownership lighting solution available. Additionally, Leotek worked with a local utility to secure a substantial rebate, offsetting a large portion of the cost of the luminaires.
Bob Tomes summarizes, "Overall, I have become even more impressed with our new Leotek LED lighting system after seeing the post-installation utility bills. Due to the proven efficiency of the Leotek LED lights, we are definitely considering replacing the antiquated, "energy consuming" metal halide fixtures at our Ford Dealership. Burned out bulbs, ballasts, and broken fixtures create high maintenance costs that would be eliminated with the installation of new LED lighting. Anyone wishing to know more about our LED parking lot and security lighting system is invited to visit and observe the first 100% totally LED new construction auto dealership in the great state of Texas."
The GC2 Area Luminaire is guaranteed by Leotek's industry leading 5-year warranty, and will be on display at the NACS (National Association of Convenience Stores) Show in Las Vegas, Nevada October 7-10, 2012 (Booth #6201). For more information about the GC2 Area Luminaire, please go to www.leotek.com to view the product specification data sheet, and Bob Tomes Subaru project summary.
About Leotek
Leotek Electronics USA Corp., located in Silicon Valley, California since 1997, and celebrating 20-years as an LED lighting manufacturer, is globally recognized as a pioneer in light-emitting diode (LED) technology. With millions of LED products installed throughout the United States, as well as on a global scale, Leotek offers a history of proven performance. The company manufactures innovative LED lighting products for applications encompassing traffic and transit; street and area; petroleum, convenience, grocery and retail stores.
Leotek is committed to developing emerging solid-state technology that offers greater longevity and environmental viability than traditional lighting sources, while reducing energy consumption and maintenance costs. Leotek, "The Leader in Electro-Optics Technology," continues to lead the next generation with LED Green Technology. For more information, please visit www.leotek.com.
Contact
Tammy Clark Leotek Electronics USA Corp. 726 South Hillview Drive Milpitas, CA 95035 408-380-1788
E-mail:tammy@leotek.com
Web Site:www.leotek.com