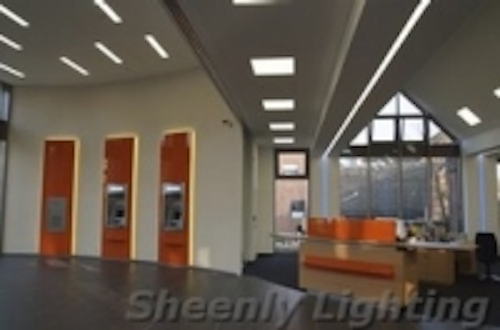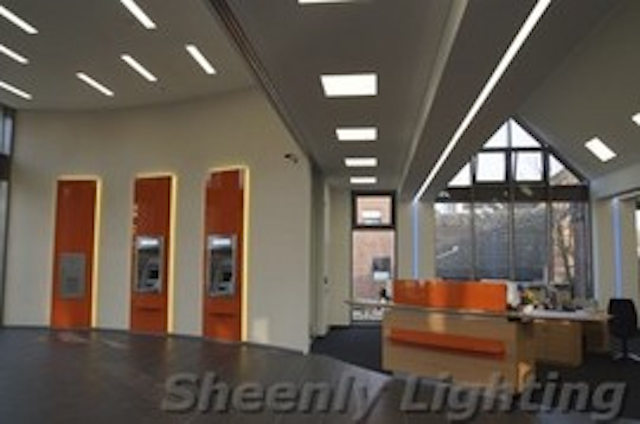 Date Announced: 16 Oct 2012
Shanghai Sheenly Lighting is an LED lighting company dedicated on research and development of sustainable solid state lighting products & solutions.
Recently, a German bank branch construction is finished with its lighting totally adopts Sheenly Panel light. And the final illumination effect satisfies the project manager much.
Sheenly's high quality LED owes to constant continuous improvement programs through every procedure of development, production and quality inspection. This has already verified by Bayer, IKEA, H&M American Development Group and so on.
And this is also one of the main reasons why the German bank cooperates with Sheenly.
Despite of high quality, the specific and professional bank lighting solution that Sheenly provides also enhances the partnership between the two.
About the solution:
Bank environment should give a person stylish and high-grade feeling. Therefore, banks generally install high grade and good looking luminaires. The bank employees spend almost a third of time in the office busy reading material, writing, making phone calls, operating computer, etc. The various kinds of activities all have different visual requirements.
Good office lighting design not only can effectively improve the work efficiency, but also can improve the enthusiasm and energy. Bank office lighting environment should be bright, comfortable while do not break luxurious feeling.
Elements that must be taken into account include: making full use of natural light, appropriate luminance and contrast, anti-glare controlling, avoiding harm that caused by spark and scientifically applying high efficiency luminaires and light source.
Combining all the essential factors, Sheenly had tens of practical tests together with the project manager and proved that Sheenly panel light is the best choice.
Contact
Jim Wang
E-mail:sales@sheenly.com
Web Site:www.sheenly.com