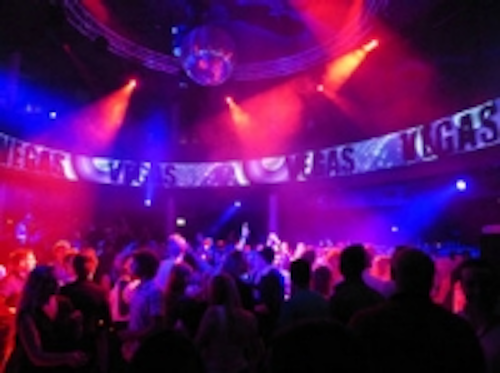 Date Announced: 20 Oct 2012
Vegas Dance Club is the newest, latest and brightest must-go destination for the coolest of clubbers in Lucerne Switzerland, featuring a regular line up of hot international DJs, a capacity of 1000 and a Robe moving light rig as specified by Lighting Designer Frank Alofs from Audiotech KST AG.
Alofs was asked by the venue's owners to come up with an exciting lighting scheme to match the vibes and exclusive feel of the venue.
His winning concept was based on LED moving lights as both he and the client wanted a rig that – in addition to looking amazing - was as sustainable as possible and offered excellent value for money and low on-going running costs.
Apart from that the brief for the lighting design was to help make it "The best club in Switzerland".
A keen user and specifier of Robe products for the last two years, Alofs made the decision to use twelve ROBIN LEDBeam 100s, eight DLX Spots and four LEDWash 300s at the centre of the lighting rig.
These are rigged on circular trussing in the roof and around the underside of the first floor balcony – all following the attractive spherical design of the room, dancefloor and DJ booth.
Alofs states, "Right now, there is no other range of moving lights that offer the flexibility and dynamics of Robe".
He is particularly impressed with the fact there is colour continuity between the different fixtures across the ROBIN range, and also with the speed of their pan/tilt movements, the general intensity and the small physical dimensions.
The LEDWash 100s are rigged in the roof under the balcony, where their small size takes advantage of the lower headroom. Their mega-bright beams are used for shooting out into the roof void above the centre of the main dancefloor and scanning down onto the packed crowds, where they are ideal for fast moving audience interaction.
He likes the virtual colour wheel of the DLX Spot, which comes pre-programmed with 237 colours including a selection of authentic different colour temperature whites from 2,700 to 8,000 K. "It is a fantastic fixture – very fast in all aspects," he enthuses.
In addition to the colour mixing on the LEDWash 300s, he likes the sheer speed of the unit and that they are the perfect complement to the LEDBeams and DLXs.
Day to day, the fixtures are operated in Vegas Dance Club by Jonas Burren using a Chamsys MQ100 console.
Alofs of Muttenz based Audiotech worked closely with installation company Privilege Events on the project, for which he oversaw and co-ordinated all the technical elements. Vegas Dance Club's video design was created by Luca Idone from Pix 'n' Lux.
Contact
Louise Stickland +44 (0)1865 202679 +44 (0)7831 329888
E-mail:louise@loosplat.com
Web Site:www.robe.cz