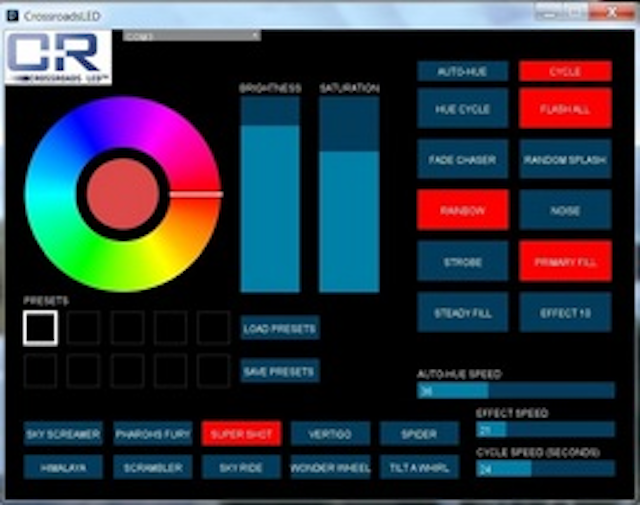 Date Announced: 25 Oct 2012
Crossroads LED unveils its new DMX FREE™ Wireless Control Interface designed to control thousands of high-output, multi-watt LEDs without the need for cumbersome DMX-style universes, addresses, cabling, or controls.
Collinsville, Oklahoma – Crossroads LED, LLC has developed a revolutionary new wireless LED interface application for its DMX FREE™ LED control system. The new wireless system will have its official debut at the International Association of Amusement Parks and Attractions (IAAPA) Exposition in Orlando, Florida in November 2012.
The Wireless Control Interface, one of the most innovative and advanced amusement and entertainment LED lighting systems on the market today, expands far beyond the capabilities of any other like system by giving facility operators the ability to control all of their DMX FREE™ LED lighting systems from a single laptop. "The ability to walk up to any structure or ride and change the color, effect, and intensity of the LEDs with the click of a button is revolutionary," says Dana Stefanoff, President of Crossroads LED. "This goes far beyond anything that has ever been offered before. It is the first true 'plug-and-play' system developed specifically for the entertainment and amusement industry!"
The new Wireless Control Interface is designed to seamlessly communicate with our DMX FREE™ INFINITY controller and LED tubes. Together, these systems offer effects and features that make seasonal and occasional lighting changes effortless and user-friendly.
What makes our DMX FREE™ system so revolutionary is its superiority over conventional technology. Entertainment venues and amusement parks have had to rely on the DMX system, originally created in 1986 and designed to control stage lighting. This control protocol is complicated and requires the cumbersome assignment of physical addresses for each LED segment. This adds a level of complexity that has proven troublesome in the entertainment and amusement industries. In addition, the use of DMX and PWM technology for LED intensity control has been encumbered by numerous patents held by certain corporations.
After observing that several lighting companies within the amusement industry were just duplicating DMX-based systems and not providing solutions to the limitations associated with its use on rides and structures, Crossroads LED chose to develop a new system that would eliminate the frustrations found in current DMX applications. DMX FREE™ technology was developed as an entirely new approach at intelligent LED control. This new "plug-and-play" system provides high-speed advanced lighting effects and features without the need for physical addressing. The DMX FREE™ controller utilizes a full authority, computer control interface – a first of its kind in the industry.
"Early on, as we began offering DMX FREE™ systems to our customers, we immediately knew that we had a winner," said Mrs. Stefanoff, "and our new Wireless Control Interface takes this system to higher level of sophistication that places the lighting decisions in the hands of the users."
The DMX FREE™ technology has broad reaching applications far beyond the amusement and entertainment industries. In addition to multicolor amusement lighting, Crossroads LED is also applying its new wireless technology to interior and exterior commercial and architectural lighting products. "The ability to control hundreds or even thousands of individual LED fixtures within a building with a simple and easy-to-use control interface has been long sought after. The Crossroads LED Wireless Control Interface and DMX FREE™ systems offer a complete solution to this challenging problem," says Vice President Buddy Stefanoff.
CROSSROADS LED, LLC, located in Owasso, Oklahoma, is an electronic engineering and manufacturing company that specializes in the solid-state lighting (LED) industry. The company provides innovative LED lighting solutions to the amusement, entertainment, commercial and architectural lighting industries.
Contact
Buddy A. Stefanoff Crossroads LED, LLC Cell: 918.504.6595 Fax: 918.553-6444
E-mail:buddy@CrossroadsLED.com
Web Site:www.CrossroadsLED.com