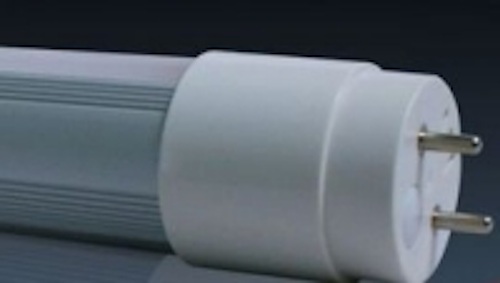 Date Announced: 17 Oct 2012
Luminous flux is well above that of commercially available standard solutions; direct power supply connection; excellent energy balance in chilly environments
Karlsruhe/Germany – Distinguished by a high luminous efficacy, Zenaro Lighting's T8 LED tubes are ideally suited for modern office environments, shops and storage areas, as well as public institutions like schools, hospitals, libraries, and more..
Zenaro's T8 LED tubes are available in 10W, 14W, 18W and 24W versions in warm to cool white light colors 3000K, 4000K and 5700K. They achieve luminous flux values of 1210 lm up to 3270 lm and a lumens per watt ratio that clearly outmatches conventional T8 LED tube solutions on the market. This efficient replacement solution for any kind of fluorescent T8 lamp has a high color rendering index of more than 80 and excels in an outstanding energy balance – especially in rooms with low ambient temperatures like coolers, deep freeze cases and stockrooms without heating.
The LED light tube with a diameter of 26.5mm and a beam angle of 120° is available in lengths from 589mm to 1500mm (paralleling T8 fluorescent lamps) and weighs between 200 and 425 grams. It features two G13 lamp sockets, supplied at one end for mains voltage operation, a frosted and impact-resistant polycarbonate cover and an aluminium silver anodized housing.
Zenaro's flicker-free T8 LED tube with an integrated high power LED driver and direct connection to the mains voltage is an efficient replacement for T8 illuminants in linear luminaires of all kind. This product has an expected lifetime of 30,000 hours (L70) and a warranty of three years.
More information at: http://europe.zenaro-led.com/en/products/europe/industrial-lights/t8
Image: T8 LED Tube by Zenaro Lighting. Source: Zenaro Lighting
About Zenaro Lighting
Zenaro Lighting offers perfect lighting solutions for every need using the best LED technology available. Zenaro's product range includes technically advanced and expertly crafted street, industrial, office and lifestyle lights as well as retrofit luminaires.
Contact
Viviane Baltzer, Baltzer Communications, Sedlmayrstr. 25, D-80634 München, Germany T: +49-89-12392993
E-mail:press@zenarolighting.com
Web Site:www.zenarolighting.com