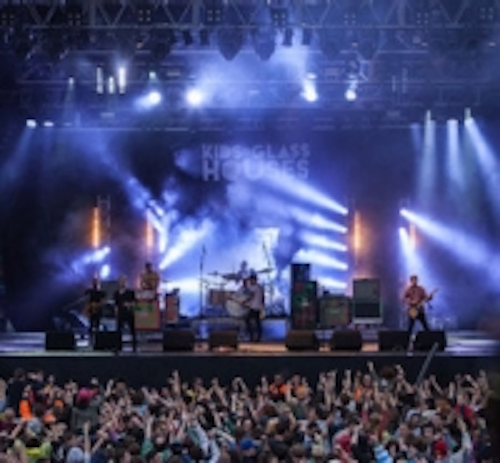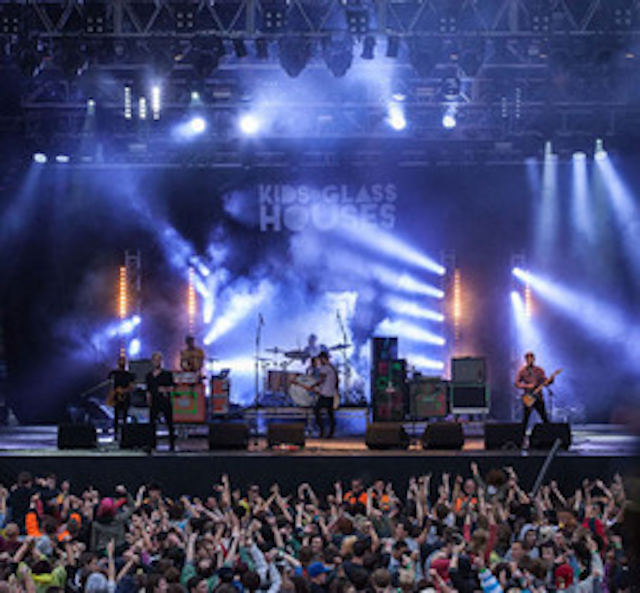 Date Announced: 15 Oct 2012
Neil Hunt from Leeds, UK based Zig Zag Lighting supplied a production lighting design, equipment and crew – including a full rig of Robe moving lights – for the main and second stages at the 2012 Bingley Music Live Festival, held over three action-packed days at Myrtle Park in Bingley, west Yorkshire, UK.
Headliners included The Charlatans, Razorlight and Nero, who were enjoyed by capacity audiences of up to 15,000. Zig Zag has been involved in the event – which initially started around 21 years ago as 'Music At Myrtle Park' – from the start.
Hunt chose Robe moving lights – a mix of ROBIN 600E Spots, LEDWash 600s, LEDBeam 100s and ColorWash 575 E AT Zooms - because he needed robust, versatile lights that were also inherently durable for outdoor applications.
The company has a rental stock of over 130 Robe fixtures which are used on all their projects.
The main stage was a 19 metre wide Orbit style construction with lots of headroom, under which the Zig Zag crew of six installed four over-stage trusses and four vertical ones at the back to provide lighting positions everywhere.
As with all festivals, it was important to keep all artists topping the bill happy and to present a rig with plenty of flexibility and creative options.
The design incorporated Charlatans' LD Andy Liddle's specification and also accommodated the requirements of the other headliners, which included a large illuminated scenic 'Razorlight' screen and additional video elements for Nero.
Twenty-four of the Robe LEDBeam 100s were positioned on the verticals at the back and used for blasting sharp, blisteringly intense columns of light forward onto the stage in into the audience. The other twelve were on the mid-truss for lighting the forestage and silhouetting the band front lines.
Zig Zag was one of the first companies in the UK to take stock of the super-small-mega-bright LEDBeam 100s, which went straight out on a tour with rave legends, the Happy Mondays.
Hunt likes the fact that they have a great PAR-can like beam – with the additional advantage of changing colour and moving like greased lightning!
The 16 x LEDWash 600s were used from the back truss as rear washes, and the ten ColorWash 575 AT Zooms on the front truss. Hunt still swears by these as one of the "the most robust and rain-resistant moving light products ever" and that's why they were chosen for the more exposed front truss position.
Zig Zag also supplied other lighting fixtures including Molefeys, Sunstrips and a collection of ACLs CS4 moving ACL bars, Platinum Beam 5R ACLs and six-cell LED ACLs.
All of this was controlled from a Chamsys MQ100 console, with an Avolites Pearl Tiger Touch for The Charlatans. Paddy Sollitt was the principle house LD for the main stage.
On Stage 2, Zig Zag supplied another 12 LEDBeam 100s and Robe ColorWash 575 AT Zooms among other lighting, all looked after by Jon Morris. The event's sound was supplied by Coast to Coast, and video by Light Media Display.
Utilising Robe's ROBIN – smaller, lighter, brighter – fixtures enabled Zig Zag to provide the biggest lightshow yet for this growing and very friendly festival …. but with the smallest power requirements for some time!
Photo: Neil Chapman
Contact
Louise Stickland +44 (0)1865 202679 +44 (0)7831 329888
E-mail:louise@loosplat.com
Web Site:www.robe.cz