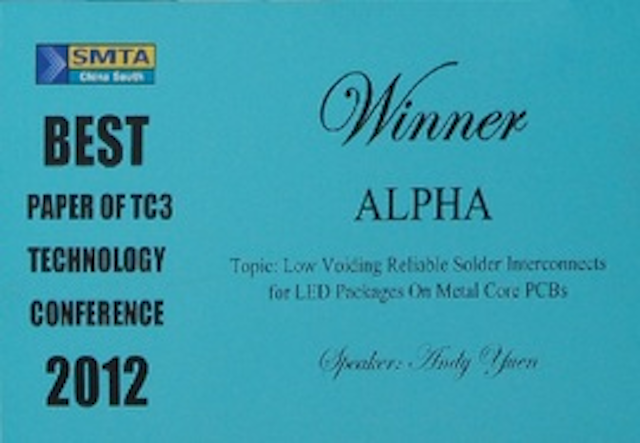 Date Announced: 08 Oct 2012
South Plainfield, NJ – Alpha®, the world leader in the production of electronic soldering materials, recently presented a paper on Low Voiding Reliable Solder Interconnects for LED Packages on Metal Core PCBs. The paper was presented by Andy Yuen, Technical Services Director of Alpha Southern China, at this year's SMTA China Conference in Shenzhen. The presentation received the award of "The Best Paper of Technology Conference Three SMTA South China 2012" on August 29, 2012.
"Alpha's specialty materials technologies are based on our strong commitment to R&D and a clear understanding of the need to provide value for our customers in each key step in the LED manufacturing process." said Ravi Bhatkal, Alpha's VP – Energy Technologies. "Our well-known soldering materials expertise provides us with a deep insight into the challenging variety of bonding events required to assemble LEDs. Alpha is pleased to present our Lumet™ line of high performance, low voiding solder pastes".
For high reliability, long lifetime and color maintenance of LED lights, it is critical to have excellent assembly interconnect reliability; i.e., package to insulated metal-core substrate solder joints with low voiding for low thermal resistance and hence good heat dissipation. This paper presents voiding performance of four different metal alloy solder pastes which were used for LED package-on-board assembly of ceramic submount LEDs on MCPCB substrates having two different dielectric types.
Link to the presentation can be found below:
English: http://bit.ly/LEDlowvoiding
For more information about ALPHA® LED materials technologies, go to
www.alpha.cooksonelectronics.com/Markets/LED. Or, send an email to:
Amit D. Patel – Energy Technologies Analyst,
apatel@cooksonelectronics.com
alphaledtechnologies@cooksonelectronics.com.
Contact
Amit D. Patel – Energy Technologies Analyst
E-mail:apatel@cooksonelectronics.com
Web Site:alphacpmd.com/