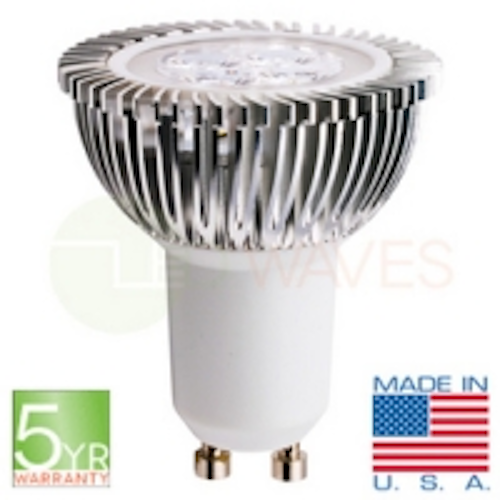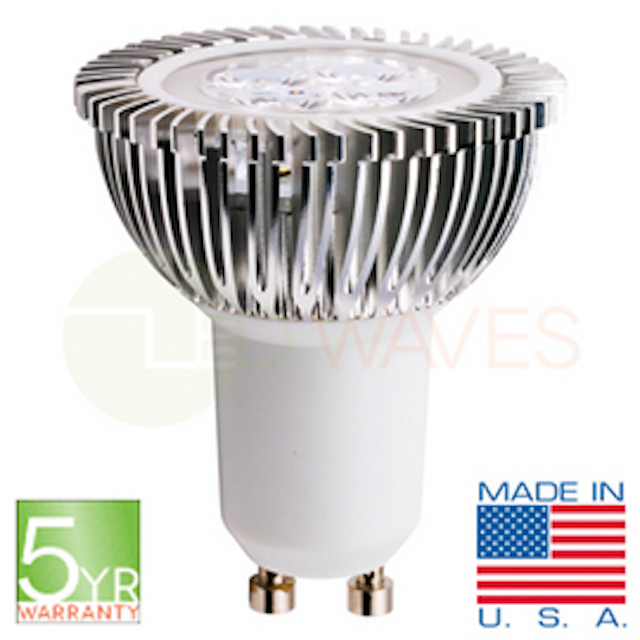 Date Announced: 19 Oct 2012
Brooklyn LED lighting supplier and manufacturer LED Waves is proud to release the Houston PAR16 LED Light Bulb, a <5 Watt replacement for 35 Watt halogen spot lights. The energy saving bulb comes with a twist-and-lock base, making it compatible with standard line voltage lighting systems common in residential and commercial installations.
The Houston LED PAR16 takes design notes from the Los Angeles 2.0 MR16 LED light bulb. Both bulbs feature LED Waves' revolutionary heat sink. This form, 3D printed with aluminum using Computer Numerical Controls, is composed of 54 radial fins that maximize the surface area within the standard 2 inch PAR16/MR16 size. This increases air flow, passively cooling the bulb. Reducing the ambient temperature reduces stress on the LED board and driver, effectively extending the life of the entire bulb.
Both the Houston and the LA 2.0 are built with Cree XB-D LEDs. These chips employ the American brand's SC3 Technology Platform, replacing traditional sapphire substrates with silicon carbide – a material which is as effective yet more affordable. The XB-D is Cree's newest development for directional lighting applications, making the Houston LED PAR16 a replacement flood light that is as cost efficient as it is energy efficient.
Further contributing to a lower purchase price is the stateside assembly of these LED bulbs: Since they are made in-house in the USA, LED Waves saves roughly a third on total production costs. As a manufacturer and a supplier, they are able to pass these savings to wholesalers and end users alike. In-house production also affords more quality control, allowing LED Waves to cover each exclusive lamp with a 5 year warranty.
Both the LA 2.0 LED MR16 and the Houston LED PAR16 are made with warm white (~3000K) or neutral white (~4000K) LEDs, in beam angles of 17 or 37 degrees.
Released this past summer, the LA 2.0 LED MR16 quickly gained popularity for its low price and its compatibility with 12 volt LED track lighting and cable lighting systems. LED Waves created the Houston with a GU10 base as a 100-240 volt analog to the original design's GU5.3 base. This twist-and-lock socket has more applications in the residential sector because it is extremely user-friendly.
The Houston LED PAR16 is an exciting addition to the small company's rapidly growing line of exclusive lamps and luminaires made in the USA. Other products include an LED recessed down light, an LED T8 replacement tube, an LED high bay (for industrial facilities) and a selection of LED PAR lamps. Breaking from the industry's standard practices, LED Waves plans to offer an affordable, energy-saving solution for every commercial, industrial and residential lighting application – all made with pride in the USA.
Contact
Nancy Ahn 1(800)986-0169
E-mail:nancy@ledwaves.com
Web Site:ledwaves.com