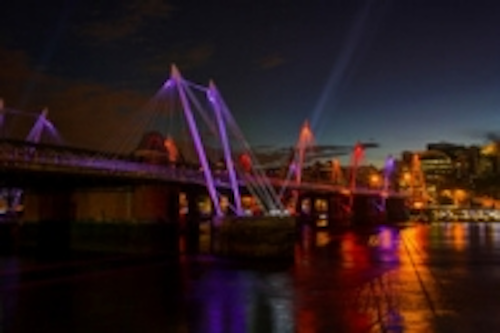 Date Announced: 31 Oct 2012
As a legacy of the capital's summer events, six of London's iconic bridges now have a permanent architectural lighting infrastructure, making the winter journey home more pleasurable for thousands of commuters.
Brand experience agency innovision was tasked by the GLA and the Mayor of London's Office to create a scheme that would celebrate this summer's events in the capital. The agency commissioned lighting designer Paul Cook who was joined by experts from the electrical, lighting and design industries to illuminate London, Southwark, Millennium, Blackfriars, Waterloo and the Golden Jubilee Footbridges which run each side of Hungerford rail bridge.
Following a detailed inspection of each bridge, Paul Cook proposed a scheme that was sympathetic to the individual bridges, but synchronised every hour on the hour to produce a stunning light show. Cook said: "The colours and patterns of light that I used were strongly influenced by the summer's events, enabling the lighting to link with all other celebratory decoration in both the London boroughs and across the nation. An individual lighting sequence was designed for each bridge, which came together as a synchronised light show and required an extremely accurate yet cost effective control system, plus the fixtures used had to be energy efficient.
For London, Waterloo and the Golden Jubilee footbridges, specialist lighting solutions company Architainment Lighting supplied a range of Philips Color Kinetics LEDs. London Bridge was fitted with 36 Philips Color Kinetics ColorBlast 12 Powercore XRE fittings, 12 on each of the two supporting piers and a further six on each bank. The arches of Waterloo Bridge were illuminated by four ColorReach and two ColorBlast LED fittings on each of the four piers, while the suspension wires and arms of the Golden Jubilee footbridges were fitted with Philips Color Kinetics ColorBurst fixtures. Architainment Lighting provided technical support and wifi for all the bridges.
Control was key to the realisation of Cook's vision for the bridges and this was provided by Pharos LPCs throughout, with Pharos technicians undertaking the programming. Pharos also persuaded 13 riverside landmarks to co-ordinate their lighting with the bridges, seven of which were existing Pharos clients, including the London Eye. The project gained Pharos a further six clients, among them Tate Modern, HMS Belfast, Globe Theatre and OXO Tower.
Rental equipment was supplied by PRG, who customised some of the fixtures against weather and potential damage and also provided technical assistance on a number of bridges and guidance as to installation. The electrical contractor for all light fittings, power and data cables was Proctor and Co Ltd, appointed by main contractor F M Conway following their success installing colour changing LEDs on other London landmarks.
Temporary planning permission was granted for the more dramatic parts of the installation, which featured additional elements such as a laser show of sporting images onto Waterloo Bridge and ever-changing shard patterns of the fixtures installed on the Golden Jubilee Footbridge. Cook explained: "Although proposed as a temporary project, a closer look at the costs showed that some of the work required could be permanent and so provide a great legacy for this section of the Thames."
Contact
Holly Winman Architainment Lighting Ltd
E-mail:holly,winman@architainment.co.uk
Web Site:www.architainment.co.uk