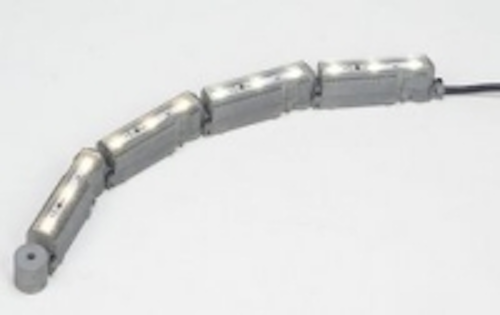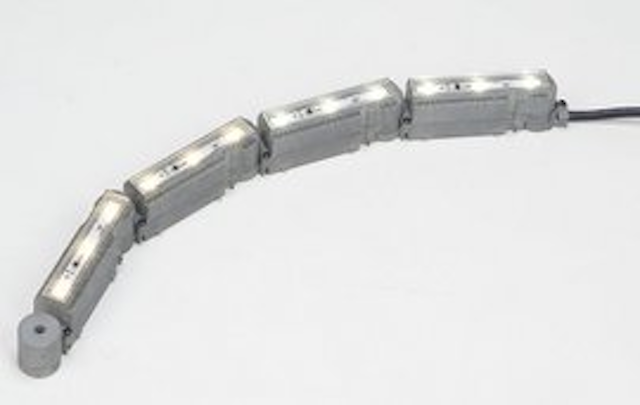 Date Announced: 16 Oct 2012
New mid-range line addresses 90-140 lumen per-foot application space
Irvine, California -- Tempo Industries, LLC a leading manufacturer of superior-quality modular and linear LED lighting with a 25-year lighting industry success record, today announced its new Series 5000 line of mid-range linear LED lighting solutions. Offering 90 or 140 lumens per-foot, the modular linear series consists of linkable 6-inch modules in 1- to 6-foot standard joinable lengths. With integral 120V power supplies that support run lengths up to 120 feet, the new Series 5000 incorporates a host of key innovations, including environmentally-friendly materials and cove-edge mounting solutions that simplify design and installation. The die-cast modules are damp location listed, easily serviceable and available in white, red, green and blue. Standard white color temperatures range from 2200K to 3500K.
Tempo Series 5000 image links available at the bottom of the page"The Series 5000 was designed to address cove and wall wash applications that require a high quality articulated linear solution, but that don't demand the 400 to 600 lumens per-foot found in our popular Series 6000," commented Tempo president, Terrence Walsh. "While engineered to address applications requiring mid-range outputs, our customers will find this new offering still fully incorporates our 'No Factory in the Field' design philosophy that has established Tempo as the company that sets the standard for quality LED-based linear lighting solutions."
Key features of the Series 5000 include environmentally-friendly Zamak 3 zinc-alloy construction and 88000+ hour L70 lifetime projection, with the choice of 90 lumens/1.7 watts per-foot or 140 lumens/3.3 watts per-foot configurations. Tempo's UniBin® LED selection process, combined with its unique articulating interconnect design, delivers consistent color and light distribution whether installed in a straight run, or in a tight radius or corner. Available correlated color temperature (CCT) choices include 3500K neutral and 2700K warm, as well as "ultra warm" 2200K that has seen wide usage in restaurants, entertainment and gaming applications. Mounting options include standard surface tracks or Tempo's unique cove-edge mounting tracks which simplify installation and ensure consistent module placement. All Tempo Industries LED lighting products come with an industry-leading 5-year warranty.
"We've never been shy about demanding that the LED lighting industry hold itself accountable to producing a better, more reliable solution than any incumbent technology can offer, and that standard has to apply equally to high-, mid- and low-range product, from whomever the supplier may be," stated Mr. Walsh, concluding, "The Series 5000 from Tempo holds to that standard with a very cost-competitive approach and we challenge more of the industry to join us in delivering on the full promise of solid state lighting."
About Tempo Industries, LLC
Tempo Industries, located in Irvine, California, was established in 1986 and is the premier manufacturer supplying LED illumination and safety systems to the North American theater market. Building upon its over 15 years of manufacturing experience in LED lighting products, Tempo expanded into the high end commercial lighting market in 2010 with the launch of its Series 6000 high performance linear LED lighting system. Tempo products have been recognized with numerous design awards including the US DOE's Next Generation Lighting competition, a Gold Award at Iidex (Neocon) Canada, and several awards of distinction from the IES and Light Fair, including the 2010 Innovation and Best in Category awards. Tempo is an Energy Star® and Lighting Facts® partner and member of the US Green Building Council. All of Tempo's linear, modular and theater lighting solutions come with a 5-year warranty and the No Factory in the Field® promise. For more information, visit Tempo online at www.tempoindustries.com
Contact
Kirk Seabold Tempo Industries +1 949.442.1601 x237
E-mail:kirks@tempoindustries.com
Web Site:www.tempoindustries.com