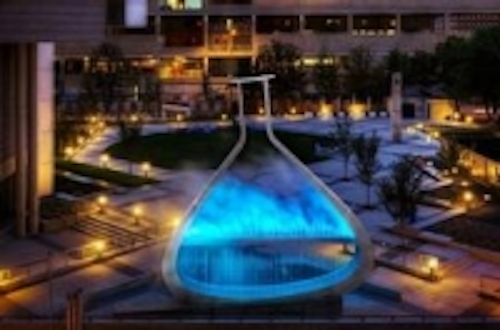 Date Announced: 05 Oct 2012
Montreal, QC - After winning an international competition to install a public artwork in downtown Winnipeg at the Millennium Library Plaza, Pechet Studio created a sizable, flask-shaped sculpture called "Emptyful." Artist Bill Pechet collaborated with lighting co-designer Chris Pekar of Lightworks and Lumenpulse to illuminate the 35-foot-tall, 31-foot-wide monument.
"Lighting for 'Emptyful' had to be slender, discreet and powerful," says Pechet. "We brought Lumenpulse into the process early and designed the beam with their fixtures in mind." A total of 28 Lumenfacade color-changing LED luminaires are secured on each side of an H-beam, half pointing up to accent the fog, and half pointing down to light a curtain of water cascading down into a 500-gallon tank below.
The stunning effect has mesmerized hundreds of people who have come to visit the piece. "It was influenced by the phenomenon of weather and human endeavor," Pechet says. "When you first visit Winnipeg, it can appear empty and open, set amidst the vastness of prairie and sky. But within, the city is full of creative energy."
The color-changing luminaires are set to 18 summer and 9 winter sequences, and each lasts for one to two minutes. Lumenpulse's Lumenfacade RGB fixtures are designed for grazing or floodlighting exterior surfaces with color.
See photos of the Emptyful project here:
http://www.lumenpulse.com/en/project/41/emptyful-sculpture-at-the-millennium-library-plaza
About Lumenpulse Inc.
Founded in 2006, Lumenpulse develops and manufactures high performance, sustainable architectural LED-based fixtures and solutions for commercial, institutional and urban environments. Lumenpulse is a leader in the LED lighting market and has earned many awards for its indoor and outdoor applications, including several Product Innovation Awards (PIA), two Next Generation Luminaires Design awards, a Red Dot Design Award and a Lightfair Innovation Award. It was also recognized as one of Profit Hot 50's Top New Growth Companies.
Lumenpulse has offices worldwide with corporate headquarters in Montreal, Canada, US headquarters and Global Technology Development Center in Boston, Massachusetts, and EMEA headquarters in London, UK.
Contact
Olivia Collette at Lumenpulse Phone: 1-877-937-3003 x. 337
E-mail:ocollette@lumenpulse.com
Web Site:www.lumenpulse.com/en/