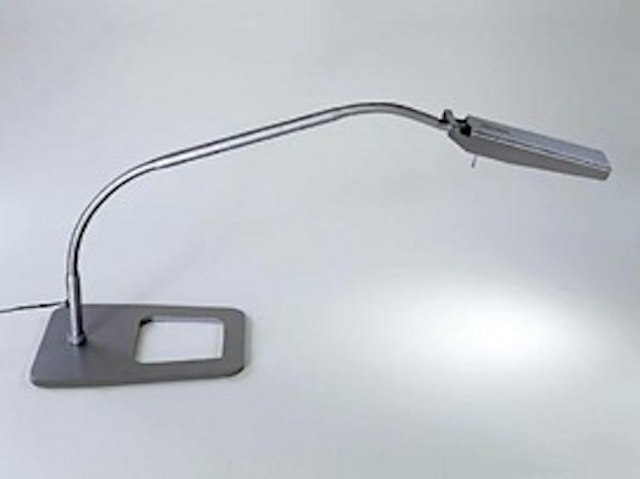 Date Announced: 11 Dec 2012
Woodridge, IL — Magnuson Group, today's leading national American manufacturer of contract-design office and facilities accessories, specialized contract furnishings, exclusive U.S. distributor for Manade of Paris and other European design manufacturers, has not offered one particular product line these past 28 years. Desktop and portable LED lighting. Now Magnuson Group introduces its first unit in a new continuing series, Maxi LED.
New Product Introduction: Maxi LED ─ infinitely flexible, adjustable, symmetrical task light. UL approved.
Design: The late Parisian designer Phillipe Michel.
Manufacturer: Manade of Paris — distributed and marketed throughout North America exclusively by Magnuson Group.
Product Applications: Maxi LED task light positions lighting precisely where it is needed in the contemporary workplace: directly onto worksurfaces, onto paperwork, directly away from causing harmful glare, annoying reflections and image washout on computer screens and distractions to users' eyes.
Maxi LED readily adapts to any office design plan, any style/size desk, workstation, and worksurface as it can be set in place in one of three ways: with a base to sit freestanding atop a desk, with a clamp for mounting to a desk edge, or with an adapter to attach as an integral component to Magnuson Group's popular Systemate family of clean-design, functionally sturdy desktop organization system..
Product Description: Maxi LED is characterized by sleek, low-scale contemporary design. It has an infinitely flexible, tapered "swan-neck" light arm that provides vertical, horizontal and lighthead rotational adjustments. Maxi LED ensures that maximum light output is focused productively on tasks at hand.
An opaque, normally downward aiming adjustable lighthead, with integral spectral reflector, is 7-7/8-inches long by 1-15/16-inches wide, on an approximate 25-inch "reach" adjustable lightarm, depending on model. Lighthead and lightarm work in tandem to direct emitted light where wanted quickly, silently, preventing wasted light spillover, glare and "veiling" reflections. A choice of 2 or 3 2.3w pure white LED lights with ultra-long operating life, are available. Both models have two flexible articulations, allow easy, one-hand positioning of light.
Construction & Finishes: Maxi LED flexible "swan-neck" arm is covered in a heavy-duty lasting industrial textile that adds texture and visual interest, while conveying flexibility of the lightarm.
Uniformly solid Maxi LED colors on base/edge-mount, lightarm and lighthead are powdercoat matte-finish Black, Silver or White. Base front is 3/8-inches; back is 7-13/16-inches; width is 9-15/16-inches, counter-balanced for stability. Maxi LED is constructed of partially European quality recycled genuine solid brass and steel.
Ordering Information: Literature, specifications and pricing for Maxi LED or other functional, aesthetical office and workplace accessories, including a wide array of waste and recycling receptacles and other support furnishings, is available from any Magnuson Group contract furniture and accessories independent sales representative in major cities; Magnuson Group independent contract furniture dealerships; or from Magnuson Group directly at 1400 Internationale Parkway, Woodridge, Illinois 60517. Telephone: (800) 342-5725. Fax: (888) 329-4729. Visit Magnuson Group on the World Wide Web at: www.magnusongroup.com.
Magnuson Group is a U.S.-based manufacturer and exclusive distributor of a broad range of commercial, institutional designer coat racks, garment hangers, office and facilities accessories and specialized contract furniture, available throughout North America.
Contact
Bill or Nancy Schoenfisch SCHOENFISCH INCORPORATED 336 County Highway 24 Richfield Springs, New York 13439 (315) 858-8393/Phone (315) 858-9635/Fax
E-mail:kelly@magnusongroup.com
Web Site:www.magnusongroup.com