XL Video takes the crown with Robbie Williams
Dec 28th, 2012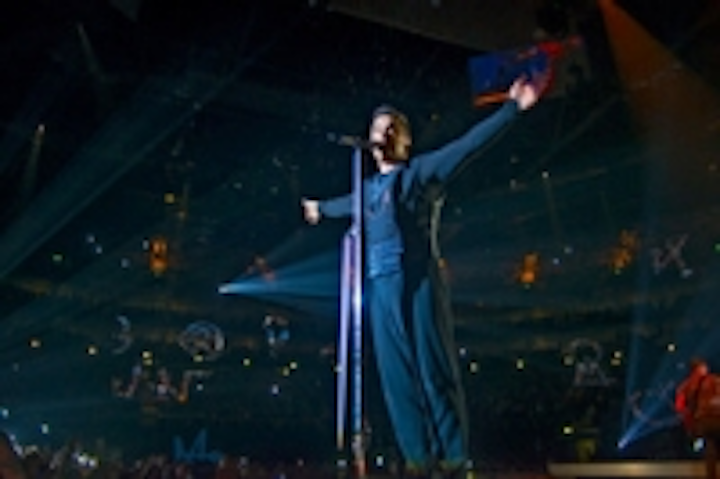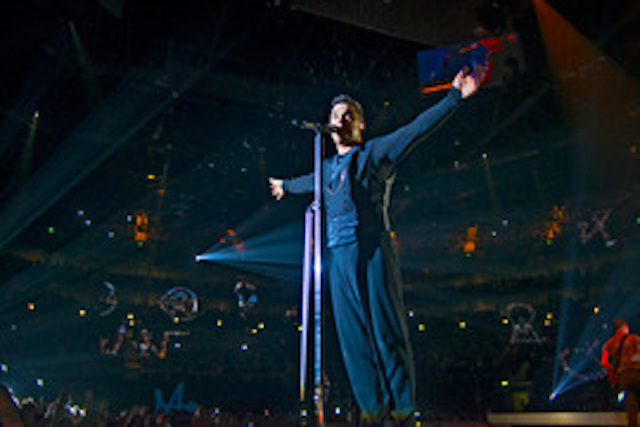 Date Announced: 28 Dec 2012
XL Video supplied scenic LED plus projection and camera / IMAG systems – including some of their newest products - to Robbie Williams' acclaimed three nights at London's O2 Arena last week. With a rousing performance in-the-round, the star re-established himself in grand style as a solo artist and one of the UK's greatest popular music entertainers.
For XL, it was the continuation of a long and fruitful relationship with Robbie Williams and his production team which stretches back over a decade. Video has always been an integral part of Robbie's live shows and his tours have blazed a trail for innovative, design-led applications of new video technology.
This was once again the case, making maximum impact at the O2 shows. The third show was broadcast live on Sky 1, and in other territories worldwide, and can now be seen on Sky's On-Demand service.
XL's Project Manager, Phil Mercer, worked closely with Robbie's long-term Production Manager Wob Roberts. The set and stage architecture was designed by Production Designer, Mark Fisher with Creative Director Willie Williams and overseen by Executive Producer, Lee Lodge.
More than 2000 of XL's new Pixled FX-200 LED spheres were utilised. This very versatile product was made up into a series of oval shapes measuring between 2.5 to 4 foot in diameter, then rigged onto a set of hand-rails built by Tait Technologies. The structure flew in from the celling to meet a scenic bridge across the stage creating a colourful element of the ever-changing set.
The versatile FX-200 is a small opaque plastic ball encasing LEDs which can be fitted together and configured to suit any design. It's ideal for bespoke applications of this type. The FX-200 offers twice the brightness of similar LED spheres and can be used both indoor and outdoor due to its IP 65 rating.
A large playback projection system featured six of XL's brand new Barco HDQ-2K40 40K projectors – currently the world's brightest projector for rental and touring. These offer an impressive 40,000 Lumens output with a 2K resolution. These shows were their first outing for XL.
Four of these were positioned in each corner of the Arena on special platforms; the fifth was rigged on an 18 ft high platform at what would normally be the 'stage' end of the O2; and the sixth was at the opposite end, up above the sky-boxes in the 'gods' of the venue.
These projected onto four reflective gauze surfaces, all of which moved in and out on an automation system.
The first gauze was 12 metres wide by 7 metres high landscape orientated, positioned at one end of the arena. There were three 15 x 7 metre portrait surfaces above the stage, each fed by three HDQ-2K40s rigged on their sides to optimise the brightness and framing capabilities.
The final two projectors – both in corner positions - were multi-purpose and mostly used to shoot video right across the stage and out into the audience, sometimes catching part of the screens, depending on their positioning at that time.
Playback material was produced by Sam Pattinson and Luke Halls from Treatment Studio to Willie Williams' creative brief.
The HD camera mix was cut by Matt Askem using a Kayak DD 2.5 M/E switcher, for which XL supplied six Sony HXC-100 camera channels. Four of these – fitted with XJ86 lenses - were stationed right beside the projectors in the four corners of the auditorium, while the other two were fitted to Telemetrics 'hot heads' with HJ22 lenses. These were operated from backstage by XL's Ed Moore and Marcus Wareham.
The IMAG was projected onto four 24 x 13ft screens hung high above the stage, rigged off T-trusses together, each fed with a pair of double-stacked Barco FLM HD20 machines also on each of the T-trusses.
The playback material was stored on and programmed in ten Virtual VTR servers feeding into a Barco Encore screen management system - operated by Video Jedi Richard Turner – from where it was sized and output to screen.
XL's crew chief Stuart Heaney worked with seven other crew and co-ordinated everything on site, getting in on the Tuesday for a Thursday first show day. He comments that the scale of the shows was the major technical challenge, but with good pre-planning, an experienced crew and an excellent production team to work alongside…. the whole exercise ran very harmoniously.
Phil Mercer, Group Head of Concert Touring for XL Video, said: "As is typical of our long-standing relationship with Robbie Williams and his production team, we are always looking to keep the show state-of-the-art by using new video technology.
"As is so often the case, to achieve this we push new tech straight into action, and thankfully all of the new equipment performed flawlessly!"
Contact
Louise Stickland +44 (0)1865 202679 +44 (0)7831 329888
E-mail:louise@loosplat.com
Web Site:www.xlvideo.tv