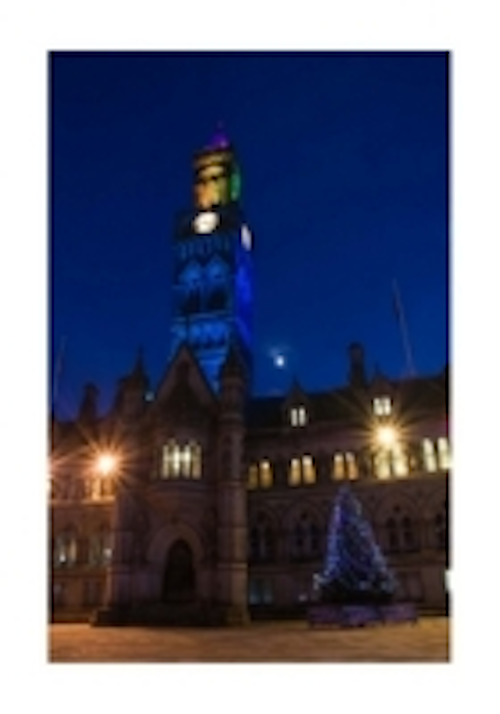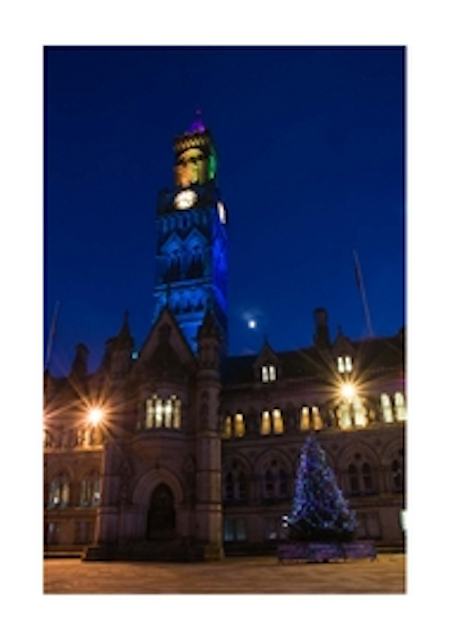 Date Announced: 16 Dec 2012
As part of essential maintenance and re-wiring of Bradford Council's City Hall, LITE Ltd were contracted to replace an out-of-date lighting mixture of fluorescent, sodium, mercury and metal halide lamps, illuminating City Hall's iconic 220 ft tall clock tower, with energy saving, emission reducing LED lighting.
Using LITE's LED lighting scheme has reduced the electrical load on the clock tower from 12.8 kW to 2.4 kW. Added to this saving, the annual sunset to midnight lighting consumption has been reduced from 24,428 kWh to 3,931kWh. While increasing lamp life by a factor of 10, the LEDs have reduced annual CO2 emissions from 12,815 to 2,062 kg.
As well as saving Bradford Council over 45 per cent in the energy costs for lighting the clock tower, LITE's colourful LED illumination of the city's iconic landmark has enabled the Italianate, Palazzo Vecchio inspired clock tower, which dominates the centre of Bradford, to be visible and appreciated from all parts of the city.
-2-
Release Number L2001/ 06
Relighting the clock tower, part of the Council's City Park scheme, has enabled the previous, 15-year old, outdated, basic on/off, single-colour flood lighting to be replaced with an energy-saving LED system, which provides an easily maintained, flexible, colourful, fully controllable lighting scheme.
Programmable, to provide extra functionality, including dramatic colour changes and lighting effects, LITE's LED lighting scheme is designed to complement City Park and support special events. It can be used to add an extra dimension to the tunes played by the programmable 13 bells in the tower supporting special events and celebrations, while the clarity and intensity of the LED lighting, provides the perfect white light to enhance the clock tower's intricately carved stonework.
Relighting the clock tower has significantly reduced the Council's costs for cleaning, maintenance and frequent lamp changes, as the previous positioning of the roof-mounted flood lights required specialist mechanical equipment and qualified engineers for any lamp change or other maintenance.
With a lamp life of only 6-8,000 hours, maintenance of the old installation was relatively frequent. The new combination of repositioning the LED lighting units, to easily accessed areas, combined with a lamp life of 80,000 hours, has totally eliminated this maintenance cost; apart from an occasional, non-specialist cleaning of the tempered glass lens.
-3-
Number L2001/06
LITE's all LED solution uses high level Philips Color Kinetics ColorBlasts to provide a combination of rich, saturated, wall washing colour and colour changing effects for the clock face backlighting. These are linked to the long throw, low level, ColorReach floodlights to provide split diffuser light combination ideal to highlight the four external faces. The whole LED RGB colour change lighting is co-ordinated by a DMX Pharos lighting controller, within the clock tower.
Proof that the Philips Color Kinetics RGB LED equipment was the ideal way to relight the Bradford City Hall clock tower took place in late 2011 when Bradford Council engineers viewed a demonstration of lighting on the clock tower.
Contact
Ray Pearson Tel 07813648702
E-mail:steve@lite-ltd.co.uk
Web Site:www.lite-ltd.co.uk/