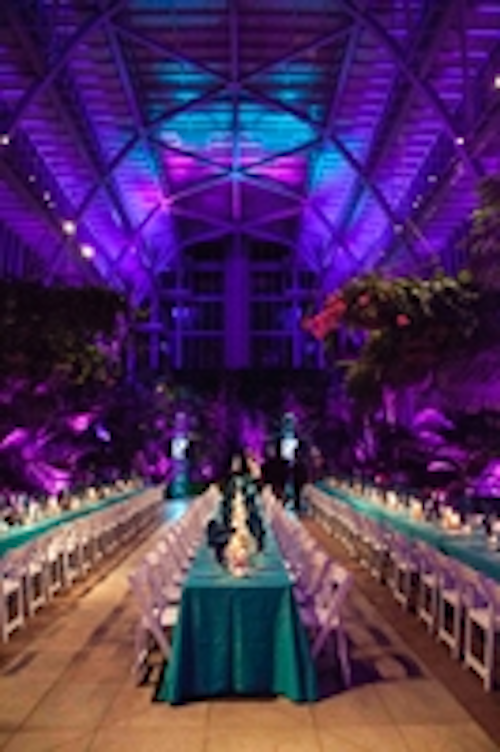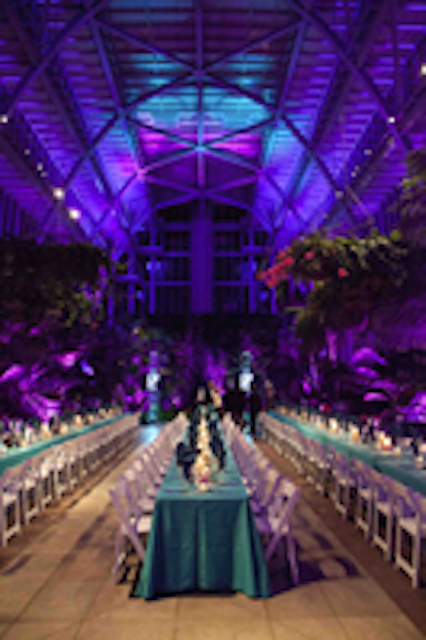 Date Announced: 12 Dec 2012
ST. LOUIS, Mo. — An architectural staple and great example of greenhouse design, the Jewel Box in Forest Park turned into a giant gem for a surprise birthday party, lit by 58 CHAUVET® Professional fixtures. Listed on the National Historic Register, the art deco-style building has a glass structure and is a popular choice for various events.
"With all the glass, steel and plants that make up this greenhouse, we simply wanted to let the building glow like a jewel," said Stace Napper, lighting designer for Ironman Sound Industries, a full-service production company that provided the fixtures. "It was all about highlighting what was already there and making the structure stand out."
Napper used 32 COLORado™ 1 Tour fixtures within the planting beds to discreetly uplight the ferns and trees. Taking into consideration the limited walking space around the tables, Napper placed 12 low-profile COLORado™ Batten 72 Tour lights in the dining area, for perimeter plant uplighting.
"The building has a system of six catwalks along the stair-stepping roofline," Napper said. "On each end of the lower four, we placed one Legend™ 412 fixture and aimed them down the catwalks for a 'truss warming' effect. The light weight of the fixtures allowed us to rope them up to each position with ease, and their great output meant we only needed one on each end to give the amount of light desired."
One challenge the crew faced was the time pressure. "Because the space is used for a lot of weddings, we only had an hour for setup before show time," Napper said. "We went in and laid out what we could in the morning, which meant that anything we put out had to be out of sight for the day's weddings. Plus, we had to be mindful not to damage any plants."
More Legend™ 412 fixtures lit the dance floor, which ended up moving at the last second. "With a few tweaks on some of the lights, this was no problem," Napper said. "Our client wasn't really sure what color they wanted going into the load-in, so everything was DMX controlled, which meant there was no issue finding the color they wanted only 20 minutes prior to the doors opening."
Photo credit: Suzy Gorman
Contact
800.762.1084
E-mail:E-mail: sales@chauvetlighting.com
Web Site:Web Site: www.chauvetpro.com