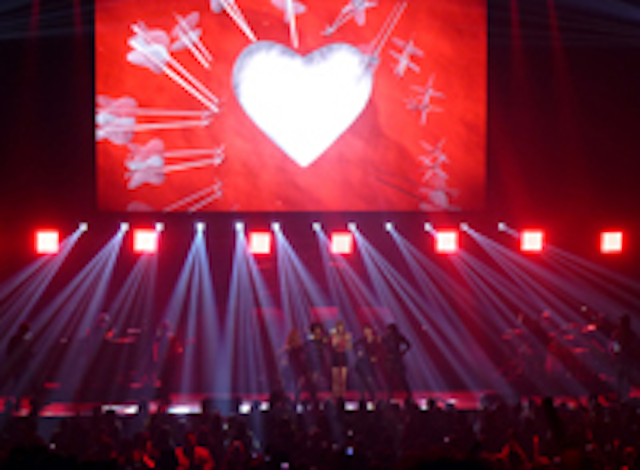 Date Announced: 12 Dec 2012
LOS ANGELES, Calif. — CHAUVET® Professional Nexus™ 4x4 wash lights flawlessly performed next to top singers such as Taylor Swift and Justin Bieber during the two-day Jingle Ball concert produced by KIIS-FM radio station at the Nokia Theater. As preeminent fixtures in the show, 16 Nexus™ 4x4 bold, eye-candy wash lights accompanied artists like OneRepublic, Ne-Yo, Ellie Goulding, Jonas Brothers, Ke$ha, Sammy Adams, Flo Rida and more.
"It was a turntable stage, which rotated back and forth," said Todd Roberts, owner of Visions Lighting, a premier lighting, staging, video and production company that provided the fixtures. "Normally we would have turntable walls, but instead we built a truss arch over the center of the turntable and we mounted eight Nexus™ 4x4 fixtures on each side, thus becoming predominant lights." Every time the table rotated, there was a Nexus™ 4x4 light behind the artist. Visions Lighting's Brandon Dunning was the house lighting designer for the show, and part of the team that came up with the successful design.
Lighting Director for OneRepublic Erik Parker recognized the great performance of the Nexus™ 4x4 on stage. "These panels allow for great versatility with their bright RGB LEDs and the pixel-mapping capabilities," Parker said. "Nexus™ 4x4 is an awesome fixture with tons of options for uses."
Echoing Parker's comment, Roberts said he simply loved Nexus™ 4x4. "I like that it is capable of pixel mapping and the fact that it's not just an effect light. I think it features great output and superior lenses, and it's powerful enough to get creative and use it in different ways."
Photo credit Gilbert Baghramian.
Contact
800.762.1084
E-mail:E-mail: sales@chauvetlighting.com
Web Site:Web Site: www.chauvetpro.com