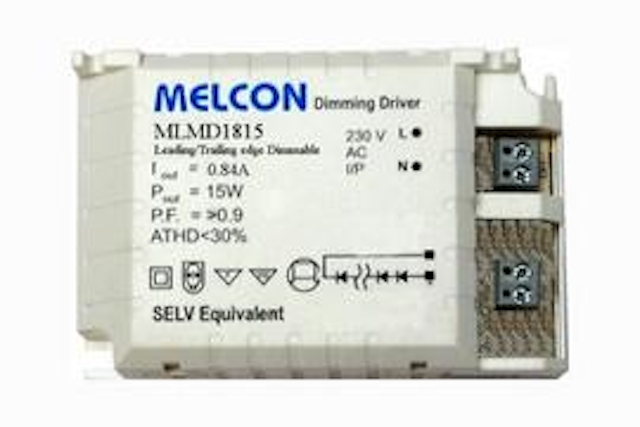 Date Announced: 22 Dec 2012
India, MELUX CONTROL GEARS P.LTD. LED Driver manufacturer, [MELCON] is pleased to announce compact Triac based leading/trailing edge dimmable LED drivers for lower voltage LED lights.
These LED drivers have been designed for lower voltage LED lights. They deliver up to 24 W of power to the LED with an output voltage up to 48V DC.
With the highly compact dimensions of 110 x 65 x 30mm (LxWxH) for LED Downlight/Panel Lights / LED Tube light applications, LED drivers make LED lighting installations easier. With a power conversion efficiency >80% ATHD <30% P.F.>0.9, these LED drivers connect low power consumption with a very compact size.
The fully isolated case design enables an operation temperature range of -20°C to 60°C, which means that these LED drivers can be used in most environments. Additionally with a IP67 approval, Over-Temperature Protection (OTP), Input over Voltage protection (IOVP), Output Over voltage Protection(OVP) and Short-Circuit Protection (SCP) these drivers are highly secure.
MELUX R&D team has developed these LED drivers aiming to provide more energy-saving and environmentally-friendly LED products. 'MELCON' LED driver technology is expected to lead a new trend in innovation and become an essential feature for all LED lighting products.
Features
* Built-in Over voltage Auto recovery shutdown feature,
* Universal AC input 90 ~ 264V AC 50/60Hz
* Operation temperature range: -20°C ~60°C
* High power conversion efficiency: > 80%
* Protection: OTP / SCP /OVP
* Fully isolated case
* Class II power design without earth pin
* Compact Size
About MELUX:
MELUX CONTROL GEARS P.LTD. is a diversified provider of LED power supply and Electronic Ballast. Extremely reliable solutions for consumer and industrial applications., for indoor and other customized applications under the 'MELCON' brand. Please visit the company homepage at www.melconindia.com.
Contact
sales@melconindia.com
E-mail:sales@melconindia.com
Web Site:www.melconindia.com