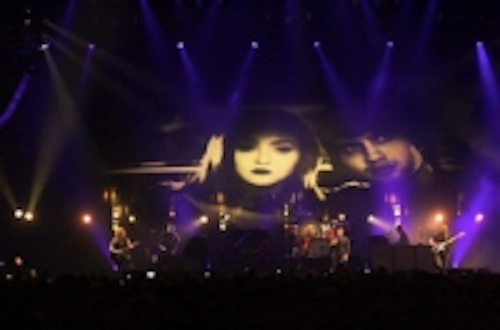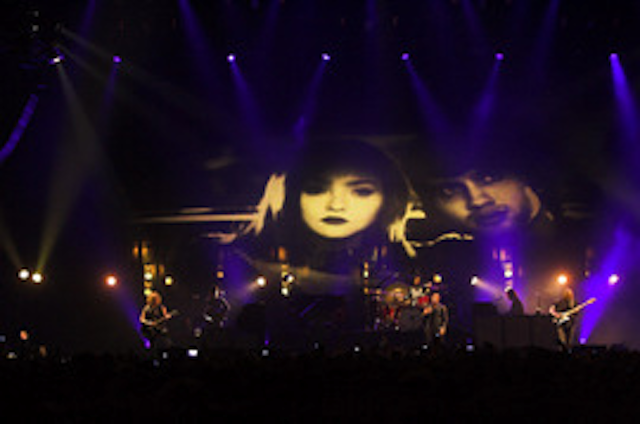 Date Announced: 03 Dec 2012
XL Video is supplying LED screen, custom scenic video elements, cameras / PPU and crew for the new Killers 'Battle Born' tour which has just kicked off in the UK following the release of the band's fourth and eagerly anticipated studio album in September.
Video was specified by lighting, set and visuals designer Steven Douglas, known for his innovative and original approach. It renews a positive and long-term working relationship between XL Video and the band, and follows XL's supply of video specials for festival headliners and own shows throughout the summer. XL's project managers are Jo Beirne and Phil Mercer.
Douglas's starting point for the tour design was that the band wanted the stage to have a generally more raw and stark look and feel than in the past. He also wanted the video to be different, distinctive and edgy, toned with subtlety and suggestion yet high impact.
A large part of this aura is created by thoughtful use and clever content.
This has been created by a combination of Douglas and LA based video artist Chris Callister, with Tim Burton's seminal music video for 'Bones' playing out to a stomping rendition of the song.
The upstage screen is Pixled F15. The bottom ground stacked section is 48 ft wide by 6 ft high and the top flown section is 15 ft by 48 ft. Douglas used F30 for the summer shows which proved very reliable, and decided to step up the definition to F15 for the tour.
Sometimes the screen simply disappears into the background. At others, it brings a completely three-dimensional depth to the performance space or a challenging moody ambience.
In addition to the screen - which splits in half horizontally with the top section flying out to reveal a wall of moving lights behind - the design's videology incorporates some set elements.
The main band riser fronts are covered in 618 blocks of 10mm Barco O-Lite from XL – an idea first tried out in the summer.
Eight downstage d&b M2 wedge covers have been populated with Pixled F11 video panels, which are rotated 90 degrees for a good fit.
Wedges have been utilised as visual props on Killers shows for some time, and cladding them in video was a new evolution of the trend.
The surface needed to be extremely hard-wearing as the band frequently jump and stand on the monitors during their highly energetic set, and F-11 was selected as the highest resolution product that would fit the monitors without making them unwieldy and impractical to tour. It also offers a contrasting look to the other video surfaces.
The camera feeds come from six static 'lipstick' units and four robo-cams dotted all around the stage. The mix is cut by XL's Chris Isaacson using a Grass Valley Kayak switcher, and he also operates the four robo cams – working closely with Douglas. They are using a Thundering Jacks Video Dust system to add some effects.
The grainy, dirty camera aesthetic is used sparingly, probably for around a third of the show, and is exciting as well as the complete antithesis of a standard IMAG mix.
Content is stored on and played back from an ArKaos media server running the latest Media Master software, supplied by ChristieLites and looked after by FOH/Media Server tech Mike Kapler, a long standing Killers crew member. All the camera feeds are also formatted and output to the various screens via the ArKaos, which is triggered from Douglas's grandMA2 light console, also controlling the lighting rig and nine lasers.
Joining Isaacson on the XL crew are engineer Oliver Derynck and LED techs Tim Bolland and Connor Canwell.
Douglas has worked with XL Video many times over the years, "I have a fantastic relationship with Jo, Phil and all the crew," he concludes.
Contact
Louise Stickland +44 (0)1865 202679 +44 (0)7831 329888
E-mail:louise@loosplat.com
Web Site:www.xlvideo.tv